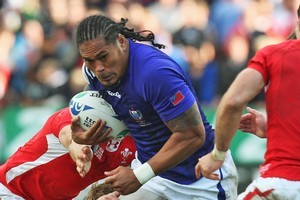 Samoan rugby player Eliota Fuimaono-Sapolu's view the Rugby World Cup does not have a level playing field has a lot of support from nzherald.co.nz readers.
Fuimaono-Sapolu vented on social media site Twitter complaining the team only had a four day turnaround between games, while larger teams were given a week between matches.
"The most important game in our history and we get three days off while our opponents get a week," he tweeted during the gap between matches against Namibia and Wales.
Although many readers disagreed with the way he complained (with reported references to slavery and the Holocaust in other tweets, although these have since been deleted), a majority agreed with what he had to say.
Rue, from Hong Kong, backed Fuimaono-Sapolu's comments.
"The major teams should have better resources in their squads (more professional players and a larger player base) so are better able to cope with a short turnaround - its doubly unfair."
Dr Woohoo said the draw is "atrocious"
"While I appreciate that TV needs to be catered for, not at the expense of the integrity of the tournament."
Pete, from Beach Haven, said the draw "invalidates the whole competition in a way as it's essentially a system of handicaps".
"Its means it's actually a two tier competition disguised as a single tier competition. No comparing apples with apples here - it's comparing well rested teams with weary teams. Just $ again."
1526 said there were double standards.
"This player has every right to show his anger to the IRB. I would actually like to hear from the IRB the reasons why."
Jack Maeva said the International Rugby Board is only interested in "keeping the big boys happy".
"Look at Fifa World Cup. It don't matter if you're an African side, European side, South American side or a Pacific side (New Zealand). You get treated with respect and dignity, no matter where your from."
All Blacks supporter The Answer supported the Samoan "having a rant".
"How would the same thing go down if the ABs played France and then had to back up against Aus or Eng with a 4 day rest. It wouldn't be one twitter rant, it would 4 million."
However others believed the commercial imperative could not be ignored.
Porkchop said there were five teams who supply the majority of the fans, sponsorship and advertising for the Rugby World.
"Are people so naive they really think the TV networks in the UK, Aus, NZ, France and SA would pay tens of millions if the main matches they could show live at peak times were the likes of Romania vs Russia?
"The World Cup is arranged to make the most money possible from those five nations, that is not going to change any time soon."
The Predictor, from Tauranga, agreed.
"Of course it's unfair but so is life its simple commercial terms as far as the IRB is concerned."
Itchytriggerfinger said Fuimaono-Sapolu should "harden up" as all teams have their own individual set of circumstances.
"Some Crusaders players have just come off the back of a gruelling Super Rugby season, including travelling all around the world, then they played a Tri Nations series. What have the Samoans done?
"It's never going to be 100% "fair" on everyone. That's just the way it is at world cups. Stop whingeing and deal with it."
- HERALD ONLINE