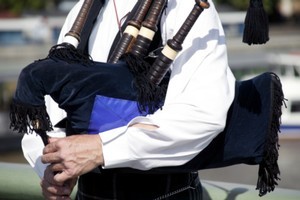 The Scottish Government has appealed to Rugby World Cup organisers to allow a Scotsman to play the bagpipes at Scotland's games, the Scotsman reports.
Piper Matthew Strachan, 32, has flown to New Zealand to follow his team during the tournament.
However the Aberdeenshire man was disappointed to discover he could not take his pipes into Invercargill's Rugby Park for Scotland's matches against Romania and Georgia.
"After spending considerable money getting to New Zealand to support my country, I was shocked to hear bagpipes were not allowed in the stadiums," he told the Scotsman.
"I've played the pipes in most of the UK stadiums and also in France during the last World Cup and they have always been gratefully received. Why then after many sporting years have the World Cup organisers decided against having them in stadiums?"
Mr Strachan said the bagpipes should be allowed to be played before and after the game.
"What is a touring piper supposed to do with his pipes when refused entry to a stadium? I would not have bought as many tickets to other games had I known, because as a piper, rugby games to me have always included my pipes."
Mr Strachan has written to Prime Minister John Key and Scotland's sports minister Shona Robison has now reportedly written to organisers seeking to overturn the ban.
The Scotman reports "officials have reportedly outlawed bagpipes from stadiums amid fears they could distract Scotland's opponents".
However the paper story fails to mention other musical instruments, airhorns and vuvuzelas are also not allowed at any of the stadiums as well.
An opinion piece in the English paper The Telegraph supports Mr Strachan's appeal for pipes at the World Cup.
"This comes from a country whose national side, the All Blacks, begins each international with a blood-curdling war dance called the haka with the express intention of scaring the living daylights out of the opposition."
"Surely a few skirls on the bagpipes are nothing to fear."
- Herald Online staff