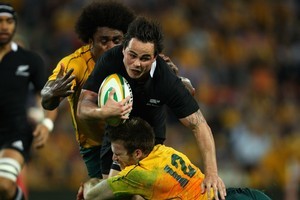 All Black Zac Guildford breached an agreement with team management over his excessive drinking on tour.
He's fronted the media in Christchurch this evening, following an incident in Brisbane after the team's loss to Australia in the Tri-Nations decider.
All Black manager Darren Shand says there have been other minor incidents involving Guildford's drinking in recent weeks.
"He's let himself down, he's let his teammates down.
"Zac hasn't broken any laws here. Zac's now got a self improvement programme he has to work on."
Guildford said he regretted his behaviour and wanted to make amends.
"For me personally, I feel I let myself down and the team down.
"Obviously a poor performance on the field in a week that I felt the pressure at times led to me making a few bad decisions off the field following that game.
"I feel now that I have got a chance and I want to make the most of it.
"I'm in the All Blacks now and I want to stay there.
"I don't want to throw this opportunity away."
Shand said there had been a lot of rumour and speculation and the team felt it necessary to put the facts out there.
"We just felt he drank excessively.
"It's pretty obvious what's moderate and what excessive.
"And that's why we have dealt with it the way we have."
Guildford, 21, had a poor game in the All Blacks' disappointing performance in Brisbane and has struggled to gain the coaches' favour since, with centre Richard Kahui now above him on the wing pecking order.
News of the breach will be doubly upsetting for the All Black panel, who had previously put Guildford on notice over his drinking.

Herald on Sunday rugby writer and nzherald.co.nz columnist Gregor Paul wrote on August 28, that his 'inclusion in the World Cup squad is proof that Guildford has won the panel's trust and satisfied everyone that his attitude is exactly where it needs to be.'

He quoted All Black assistant coach Steve Hansen as saying: "I think the big thing he's done is that he's worked hard at making good decisions particularly when he's socialising.

"When there is alcohol involved, for most young people that is when they can make the odd stuff up with their decision making. He's worked hard and he has a plan in place and a huge desire to be successful - and he doesn't need any off-field stuff-ups. He's got the reward for it."
- APNZ