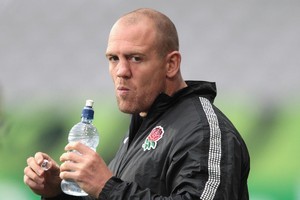 A mountain mist hung damply over a green field by a beautiful lake as a roar emanated from the changing rooms of the Queenstown Events Centre.
It was the sound of the England team stoking each other up for the training session about to start - "Come on you backs, get involved," shouted an unseen player (a forward, let's assume). Then they ran out, immune to the heavy raindrops splatting on their still-incongruous all-black tracksuits.
A dropped pass; a cheery cry of "you big-eared mute" - the spirits were high. And for the 15 minutes while the cameras were permitted to whirr before the session was closed, it was all smiles. As for the rest of it - the working period - we'll have to take the word of Steve Thompson, the hooker and veteran of the 2003 World Cup final win and self-confessed "old fart" of the squad: "As soon as we cross the old chalk we switch on and do the training we need to get better."
Thompson said later: "There's good banter in the group, and we have a good time but for us it's all about that work ethic."
As it turned out, according to the Sun's front page on Thursday and CCTV footage from a bar, the "good time" the previous Sunday night had included a long bout of drinking by some players, a clinch with a blonde friend for Mike Tindall and some out-of-the-ordinary knockabout fun with persons of restricted growth (in New Zealand they are referred to freely as "midgets" and "dwarves").
The following morning many of the same players were up and at it for bungy jumps and helicopter rides; strong of stomach as well as thick of neck and biceps, it seems.
Photographers and TV crews went to that gig as invited observers, unlike the impromptu happy snappers of the evening before.
To free himself for the chopper trip, and the rest of that day's free time activity, Jonny Wilkinson was up practising his kicking at 7am - but then the self-confessed obsessive had done the same the previous morning, which was the one after the 13-9 defeat of Argentina that was England's more formal introduction to the seventh World Cup.
"It [the tabloid story] has been massively motivational to everyone in the team," said Wilkinson. "We are more together than ever. We understand whatever's happened has happened and a huge element is there to drive into the squad to separate us. And the guys refuse to do that. The guys are pulling tight together.
"Just because someone says some things and writes some things makes no difference. We are aiming to continue on the path we're on, which is the right one."
In other words, a team that plays together stays together. Tindall has his singular difficulties to deal with now but no one died, as the saying goes, that Sunday night, even if one player was sick on a footpath.
Still there are questions for Martin Johnson, the England manager, as he engages in damage limitation. Asked on Friday whether, as a man with a solid reputation for not going over the top on a night out when he was a player, he thought there were too many in the current squad who did not know where to draw the line, he replied: "No, you're wrong. You're saying 'too many players'. If someone's gone over the line, which happens occasionally, it's one or two. It's not numbers."
However, with yesterday's match against Georgia followed by a Saturday one - a short week, Johnson called it, compared with the "very long one" just passed - there are no nights out scheduled for the near future. Johnson has been asked about discipline often since he became manager in 2008 (the tour to New Zealand, just before he started, ended with players investigated over sexual shenanigans in an Auckland hotel).
Eschewing any written code, he trusted the players instead to behave as adults - a subjective concept.
Publicly, he has spoken only in general terms about being constantly vigilant and "looking after each other". Who is looking after him is unclear.
He has a blurred line of reporting above him, given the RFU have only an acting chief executive, Martyn Thomas, who is not in New Zealand yet, while the disciplinary officer Judge Jeff Blackett, who is working for the International Board, is at loggerheads with Thomas and others from the union.
The 18-strong England backroom staff contains no obvious figure of great authority other than Johnson, who is a man learning management on the job.
If it is "one or two" or more players pulling hard on Johnson's longish leash - and we are not talking about the rope used to jump 140m off a Queenstown bridge - is it a bad thing? Sponsors love the England players: invite one to your insurance/brewery/mobile telephone launch and you are guaranteed a jovial, chatty, considerate "face" to win friends and influence people. And they are much more easygoing with the regular rugby reporters than in the daggers-drawn relationship of soccer.
Yet there is a creeping sense of too many lapses piling up into a problem; isolated incidents, it is true, but symptomatic of a slackening attitude. England have had a poor year on the disciplinary count. Courtney Lawes, the 22-year-old enforcer apparent, was suspended for two weeks after kneeing Argentina's Mario Ledesma - one World Cup match, one ban - and so joined Mark Cueto, Manu Tuilagi, Delon Armitage (twice) and Ben Foden on the 2011 rap sheet.
When being presented with the Six Nations trophy in Dublin in March - a few hours after the final whistle because of waiting for a match in Paris to finish - England's temporary skipper Nick Easter told a live BBC TV audience that the players had cheered up from the defeat by Ireland after "having a few Budweisers".
The squad were given a gala dinner with 500 sponsors at Twickenham to see them off to New Zealand. When Lewis Moody, the captain, was gently mocked by Martin Bayfield in an on-stage interview he responded by calling the compere and ex-international lock "a knob".
Even allowing for the heat of the moment in the Argentina match, the language used by James Haskell when he accused Argentina's Martin Scelzo of gouging was a shock.
Haskell broke off from being grappled by Scelzo and shouted: "You f****** c***. F****** prick." Even after a second to gather himself and allow the red mist to dissipate, Haskell used the "c" word again.
Without asking every one of the 5000 or so England supporters out here, it must be an educated guess that although none of them is any keener than Johnson on having the country's name besmirched on the front pages, their prime concern is how the team fares on the pitch. In training, according to Thompson, there is no hiding place. GPS and heart-rate monitors make sessions "shorter and sharper" than the ones of old.
Thompson said he had gained invaluable "perspective" visiting British troops at Camp Bastion in Afghanistan a few months ago. "If any player is feeling down," he said, "there's always someone to kick them a little bit harder and give them that bit of banter and it picks them up. Either you stay down or you jump straight back up. That's the way this squad is."
- Independent