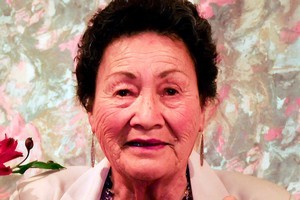 Quade Cooper's grandmother said the Wallabies' shocking loss to Ireland on Saturday night was because the team "didn't gel well".
But win or lose, Millie Cooper said she was still proud of her grandson - no matter what.
Cooper, dubbed Public Enemy No 1, was greeted with boos from the crowd during the match against Ireland at Eden Park.
Mrs Cooper, 76, of Kaikohe, said her grandson had been treated unfairly by New Zealanders after he chose to play for Australia.
"I just want them to leave him alone so he can focus on his game," she said.
Mrs Cooper watched the Wallabies lose to Ireland, in one of the biggest upsets of the Rugby World Cup.
"I just felt that our boys didn't gel well that night - that's what it was."
But she said her "Quadey" gave it his best. She hadn't spoken to the 23-year-old about his loss because "he has enough on his plate without having to dwell on it".
Mrs Cooper is looking forward to his next match against the United States this Friday. She said she was very proud of how he was performing and how far he had come but was getting sick of people being mean to him.
"I'm a very proud grandmother, and I'm sure if you had grandchildren you would want to stick up for them as well.
"I just feel they should leave him alone."
Last week, Mrs Cooper told the Herald the Quade she knew wasn't arrogant, which is why it confuses her to hear him referred to as "Public Enemy No 1".
"He's not a whakahihi [arrogant] boy, you know, he loves children and he loves the old people - he's got patience to be with young and old."