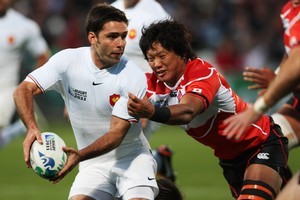 France have got the blues, while the Canucks are red-hot.
Before this Rugby World Cup it would have been hard to imagine this scenario but Les Bleus come into this match under pressure to perform having been squeezed by Japan, while Canada upset Tonga in their first match.
France's struggles on the first weekend were not unique as New Zealand, Australia, South Africa and particularly England failed to impress.
But more than anything it was the manner of the French performance that was most noticed. Cruising at 20-3 after 30 minutes, they allowed Japan back into the match to such an extent that the Brave Blossoms dominated for long periods of the second half.
The threat was extinguished only in the 71st minute.
"You said you wanted to make an impact coming into this World Cup," coach Marc Lievremont was asked after the match.
"Do you think you have done that today?"
"Guess," said the coach brusquely through the nervous translator, "guess what my answer is."
He was more forthcoming the next day: "Our match was littered with loose play, technical mistakes, errors of discipline. Wastefulness in our finishing [and] wastefulness in our organisation."
Halfback Dimitri Yachvili and first five-eighth Francois Trinh-Duc were among those singled out for harsh criticism, as was flanker Imanol Harinordoquy. The players were unimpressed, wondering why the message could not have been delivered in private.
It was a very French drama, played out in public. To add to their woes, first five-eighth David Skrela was invalided out of the tournament.
Frederic Michalak was surprisingly overlooked as a replacement, with Lievremont calling up uncapped Jean-Marc Doussain of Toulouse. Their halves pairing has been a source of constant consternation since 2008, with Trinh-Duc having five number nines inside him in that period.
So we have a divided squad, a disgruntled coach, positional uncertainty, bizarre selections and media sensing blood. Vive la difference.
It's familiar French fare and maybe All Black fans should be worried.
Despite earlier hinting that he would field a 'B' team against New Zealand, maybe Lievremont simply cannot afford a heavy defeat at Eden Park on Saturday.
Lievremont has made 11 changes to his starting XV, with wing Aurélien Rougerie named skipper for the day. Trinh-Duc is retained, with Morgan Parra getting a chance outside him while the mercurial Damien Traille comes in at fullback.
Highly-touted Raphael Lakafia was disappointing at No8 against Japan, so look to Louis Picamoles to take his chance.
Canada impressed in their win over Tonga, mixing clever strategy with tenacity to overcome a significant possession and territory deficit. They will pose more questions of the French midfield defence than Japan did, and offer a stronger physical presence up front.
"All the boys here want is a bit of respect," said fullback James Pritchard. "We only have two full-time professional players and [most of] the rest are amateurs."
"[France] are world-beaters on their day, but they also have bad days like when they were rolled by Italy. We've drawn a line in the sand [on Wednesday] and we can't go back from that performance."
They will also offer a more structured game, which should suit France who will surely bring more of an 80-minute effort than last week.