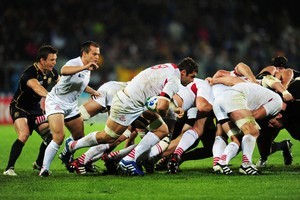 You don't have to be Charles Darwin to understand the evolution of rugby in Georgia. The sport has close affiliations with a traditional pastime called leloburti. That's where villages fought for possession of a leather ball filled with wine and sand.
They would scrimmage and maul each other, while trying to transport and deposit the ball in the opposing village's river. That was followed, supposedly, in the early 1990s with Soviet-era tractors kitted out as scrum machines. No wonder a series of enormous men take the field and unveil tactics like the MEEM - the Mass Eastern European Maul - where even midfield and outside backs take to the fray to seize extra metres before repeating the exercise, one or two players wide of another ruck.
"Meeming" has proven a useful tactic for a country where one Josef Stalin banned rugby in 1949. Since the formation of the Georgia Rugby Union in 1964, it has become the national sport. The government has invested $11 million promoting the game since 2008, even contracting Herald on Sunday columnist Sean Fitzpatrick as a consultant at times.
They joined the IRB in 1992, are the defending European Nations Cup champions (the second tier competition below the Six Nations) and a new rugby academy was opened last November in the capital Tbilisi which included a grass pitch, bringing an end to running on either concrete or clay.
On Wednesday, Georgia proved they can be competitive against top tier nations in the 15-6 loss to Scotland. They are certainly backing up from their first Rugby World Cup which included a 30-0 win over Namibia and a 14-10 loss to Ireland.
However, England can dispatch their foe tonight by getting the ball wide to more penetrative attackers, perhaps making better use of the bulldozing Manu Tuilagi than they did in the win against Argentina.
Georgian and former Scotland coach Richie Dixon recognises they are perceived as two-dimensional but makes no excuse for their rugged tenacity, a quality lapped up by fans toiling in the copper and iron industries in the Caucasus mountains.
"Genetically, I think they are made for rugby. They are warrior-type players," Dixon says. "The people are fully behind this team. They realise rugby has become a window to the world for Georgia."
Dixon wants to see better discipline against the 2007 finalists but that will be a big ask when the pressure comes on. "That [discipline] was the most disappointing factor for me [against Scotland] and kept us on the back foot. I felt we could have actually achieved more but we were our own worst enemy building momentum."
In Georgia's favour is that the British media has picked up a pungent scent from Martin Johnson's England camp after the dwarf-tossing, cleavage-sampling revelry of stand-in captain Mike Tindall and his chums following the win over Argentina. Johnson's eyebrows may have knitted together tighter - and there's a suspicion plenty has been said behind closed doors - but he is sticking by his players.
"The players said they wanted to go out for beer on Sunday night and I thought it was a great idea after a long week. Amid the pressure of a World Cup you've got to take those opportunities. Part of being a rugby team is bonding off the field and they worked hard last week under pressure. I'd also rather they were out in the general public than being kept in VIP areas.
"I think this sort of stuff brings teams together, they rally around team-mates. If we get to a point where you can't go out because someone is going to film you and point the finger, then it's a pretty sad place. They've gone out and had a drink: I mean, 'rugby player drinks beer' [as a headline], [what a] shocker."
Tindall has been left out for the Georgian match in what has been passed off as rotation. Former Warriors and Kiwis league player Shontayne Hape starts.