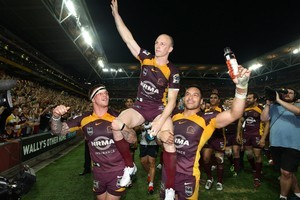 Darren Lockyer once said: "Wayne Bennett believes in himself and his players, and he always will."
Lockyer should know, having played in four of Bennett's seven premiership wins as well as being with him when he coached Australia. Last night, he knew all about that when the Brisbane/St George Illawarra semifinal went to extra time after being 12-12 at the siren. Then Lockyer struck when it mattered most; a field goal in the first period of extra time.
The guy is a walking fairytale. The defending premiers were gone, the Broncos were off to the preliminary final against Manly and Lockyer achieved further league immortality.
Hopefully he can make it to next week; he took a knock to the jaw late and it could be broken. But in Lockyer's words post-match: "It's just a knock."
The Dragons never gave up on a captivating contest despite being under sustained pressure that would have seen most teams cough up 30 points in the first 50 minutes.
Anthony Griffin also continues his fine record in his first season in charge with a 20th win, the most of any Broncos coach in their first year.
The match had been subjected to a carefully choreographed build-up script. The result would mean either Lockyer had played his last game for Brisbane or Bennett had coached his last match for St George Illawarra before moving to Newcastle next season.
All the pre-match statistics meant little at kickoff. Yes, there would be a winner and a loser. Yes, Bennett had never won a finals match at Suncorp Stadium. Yes, Brisbane had won the last eight games at Suncorp Stadium; and yes, Brisbane won 21-14 earlier in the season. No, nothing was certain.
The two top-ranked teams Manly and Melbourne might not have been involved but this was arguably the best match all season for executing excellence and exuding mental toughness.
A Dale Copley try in the 68th minute created a slight Broncos buffer, 12-6. Would that extend Lockyer's career at least one more week? St George came close to equalising in the 76th minute after a Soward bomb where Matt Prior scored but Ben Hornby had knocked it forward in the leap.
Then came a crucial moment. Darius Boyd, someone Bennett has been loyal to through the years, produced a try and Soward nailed the pressure conversion.
The Broncos produced an extraordinary first half of largely error-free football. After the first quarter they had produced 12 immaculate completed sets of tackles compared to the Dragons' six from seven.
Such was the accuracy that a thread seemed to be attached to the ball as it went through countless offloads, generally with Lockyer and Peter Wallace at the centre of proceedings.
Every time someone turned to offload, someone was ready and willing to take ball and maintain the exceptional continuity. Yet only second-rower Ben Te'o could muscle through in the 15th minute.
The Dragons exercised firm control of their discipline. They conceded just one penalty in the first half and tackled relentlessly, making 182 tackles and shutting down 12 offloads compared to the Broncos' 139 tackles and five offloads.
Credit needs to go to the Dragons' back three of Brett Morris (who left with a suspected broken leg late in the game), Nightingale and particularly Boyd who were tested by numerous kicking options from Lockyer and Wallace - be it bomb, grubber or chip. Nightingale even lost his shorts under the constant pressure - he ended up running around in his undies for five minutes.
However, the back three were assisted at times by a subtle distraction strategy using Ben Hornby as a runner to divert chasers in their path. He was eventually penalised for the practice. Regardless, it was a backhanded compliment to the Dragons defence that the Broncos elected to take a penalty with a minute to go in the half. It mattered little - Corey Parker missed.
He notched one just after halftime instead.
Broncos: 13 (B. Te'o, D. Copley tries, C. Parker 2 goals, D. Lockyer field goal)
Dragons: 12 (A. Cuthbertson, D. Boyd tries, J. Soward 2 goals)
Halftime: Broncos 6-0.