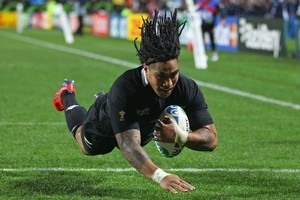 I have heard some people worrying about that 83-7 victory over Japan from the point of view that it was an easy win and that it doesn't give the All Blacks enough hard work before taking on France.
I can understand the point but I have to say I was reasonably happy with that performance. To me, it's all about building confidence now - and we saw plenty of that on Friday night.
There was one scrum there that was just sheer power; they blitzed them. In fact, there was power from the front row to fullback. We shouldn't get carried away because it was Japan and I fancy it was a lesser side than took on France the other day, with 10 changes.
At times, you felt for the Japanese and I thought at one stage Japan's best strategy might be to yell out: "Touched!" and hope the All Blacks would stop and play the ball.
But everywhere you looked there were signs of All Black confidence building. I've heard people going on about Colin Slade but, hang on a minute, the guy hasn't played much rugby.
He started averagely but he built his confidence as the game went on and that has to be a good thing. The more you play, the more confident you get and the better you can handle the big occasion.
Slade is an example of a guy who hasn't had enough rugby. He hasn't had, and needs, 80 minutes of rugby week in, week out. Some are saying Aaron Cruden would have been a better selection. But you wouldn't have had Cruden in your team at the end of the Super Rugby - his form just wasn't up to it.
However, since then, he has been playing 80 minutes for Manawatu and has built form and confidence - because he was getting all that rugby, week in, week out.
Look at Ma'a Nonu - look at all the rugby he has had and what it's done for him. He was player of the match on Friday and is a world-class operator in his position now. Right back at the beginning, I said when Sonny Bill Williams came along that, if Sonny Bill made Nonu a better player, his signing would be a success.
I think that has happened and now - as we saw on Friday - the All Blacks and Sonny Bill himself can have confidence in playing him on the wing; something I am sure will ensure he gets a place on the bench in the top team now.
Tony Woodcock is another example. He played 80 minutes on Friday and upped his scrummaging and work around the field - brilliant. Maybe they had to ease him in but he is another who will benefit from playing week in, week out. I thought it was a good idea to spell Keven Mealamu early on Friday - because Andrew Hore is another who needs more rugby; who also grows in stature and form when being played.
The only slight grizzle I have is that the All Blacks lost a lineout or three on their own throw - and I can't see how they could do that against a side of that strength.
Other than that, I thought it was a good step up from how they played against Tonga - and we'll see how all this works when the All Blacks meet France on Saturday. It will be intriguing to see if the French put up their best team or, as has been rumoured, if they will field a B team and keep their powder dry for the Rugby World Cup quarter-finals.