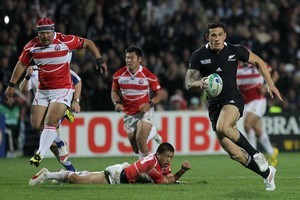 A solution to the perennial problem of what to do with Sonny Bill Williams presented itself last night.
The world's must buff player appeared on the right wing for 35 minutes and kind of looked like he knew what he was doing.
Wing might just be his bag in this team where there is a welcome reluctance to break up the midfield pairing of Ma'a Nonu and Conrad Smith.
Williams scored two tries, tackled everything that came his way and popped up in places that made life hard for Japan. He ticked every box and a few more.
The selectors have been a little exasperated by his reluctance since he came to New Zealand to back his running power. His preference is to let the defence swarm him and then play his offload trick.
It works well enough but when he comes on to the ball at pace and attacks the space, he causes significantly more problems. He's 110kg and probably plays like he's at least 10kg heavier.
He's quick on his feet and if defenders don't get everything on him, he'll be through the hole. Even if they do get plenty on him, he'll most likely be either through the hole or far enough through to make an easy pass.
Playing on the wing forces him to attack the ball and his first try last night was a simple business of him being unstoppable after he made the journey off his flank to collect the inside pass. His second was the result of good awareness to follow the ball carrier and then stay in the middle of the field to collect Richard Kahui's expert kick ahead.
The highlight, though, was his meandering run that created Ma'a Nonu's try. Williams in full flight, with the ball in one of his giant mitts, looked like Gulliver.
Even allowing for the increasing Sonny Bill hype that is sweeping the nation and possibly distorting judgement, Williams still has a compelling case to be on the field for more than cameo appearances. Not only does he bring a direct threat with his running, he creates opportunities all over the field for others.
He is the trawler; his fellow backline members the seagulls; if they follow him they will be rewarded. "I think he's made a statement," said Graham Henry about Williams. "He scored a couple of tries and looked pretty handy. He defended well and his positional sense was pretty reasonable given he hasn't played a lot of rugby there. His performance will certainly be of some interest to the selectors."
The maverick in Henry will now be hard to contain this week. The temptation will be to start with Williams on the wing - see if he can handle the more serious challenge of playing against a top nation. To run through Japan is one thing but can Williams catch a high ball? Can he stay in the right places defensively and does he have the top line speed to avoid embarrassment?
Gut feel says Williams can pull this off and give the All Blacks a game breaking point of difference on the wing - but assistant coach Steve Hansen was preaching conservatism.
"I don't think we will start him there but what it does allow us to do is start thinking about him covering a number of positions whereas before we thought he could only cover 12 and 13.
"He certainly made a good fist of it tonight and not just because he scored a couple of tries. His defensive play was good and his positional play was good - that was the exciting thing about him playing there."
Williams has at least secured a place in the 22. Versatility is the key to earning a place on the bench and he now offers that. Being able to cover wing as well as both second five and centre will provide Henry and his selectors with assurances that Williams can provide the relevant breadth of cover as well as the X-Factor.
It has been a big couple of weeks for Williams; from being under the blowtorch of public scrutiny for pausing on his contract extension, he's now man of the moment. "I have never played wing in my life but to just get out there and be among it was great," he said. "I am just like the other boys in the squad, any chance you get you have got to nail it. You have got to time your runs and make sure you come onto the ball. There is a lot of free space but you have got to pick your moments."