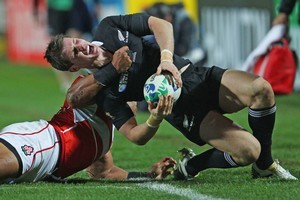 It was a good win for the All Blacks, a notch up from their Tongan performance, but I still have a few concerns.
The injuries aren't helpful and they have highlighted just how much we depend on three individuals in particular - Daniel Carter, Richie McCaw and Kieran Read.
Because of the injury to Read, we won't be getting them back in full until the final Rugby World Cup pool match or the quarter-final.
Read's and McCaw's injuries highlight the dilemma at loose forward. For the second time in as many matches, Victor Vito was quiet and it did not escape attention that he was substituted pretty early in the piece.
It tells me that not all is well in that area - Jerome Kaino went to No 8 and Sam Whitelock went on to the side when Ali Williams came on to replace Vito.
It's a shame because, before the injuries, we were not far off our first XV, I felt. Yet we still seem to be experimenting and tinkering or undecided - particularly at wing, halfback and fullback.
I don't mind saying: It concerns me that we are still debating who our best No 9 is. It wasn't clear against Tonga and it wasn't clear against Japan. I thought having Andy Ellis on the field would be good for Colin Slade because of their provincial partnership and because Ellis is supposedly the best passer of the three halfbacks.
But some of the passes he threw didn't do Slade many favours. Slade is a good player, I think, and has talent but he started badly again and he seems to have the world on his shoulders.
I mention that not to have a dig at Slade - I think he will probably make it in the end and he got better as the game went on on Friday - but because Ellis' game didn't really clear up the halfback selection issue.
Some observers have been calling for Ellis and his faster passing, as both Jimmy Cowan and Piri Weepu haven't quite been at their best lately. But I think Ellis probably ruled himself out, although he scored a good try and showed up well in support play.
My thinking is that they will look to Weepu off the bench to cover 9 and 10 - which gives them the ability to bring an extra player like Sonny Bill Williams on to the bench.
That was obviously what Williams' appearance on the wing was all about and my guess is that the point of making Richard Kahui shift from right wing to left was to see if he could cope there while playing Cory Jane on the right.
Kahui had a great game against Tonga and tucked on to the other wing against Japan without any problem. I'd say they will be our starting wingers against France.
I am still concerned about halfback. Selecting your starting halfback according to who should be on the bench seems a bit odd. It would be good to select the best halfback for the job, according to the game plan.
There's no cause for panic or anything like that. Far from it - the All Blacks played well and scored some excellent tries.
However, Japan couldn't foot it with them and here we are again, four years on, coming up against France once more after opposition not of the same quality. At fullback, I think Graham Henry & Co want Israel Dagg in - or did before he was injured. Yet Isaia Toeava played well at fullback against Japan. He is an out-and-out 15 for me.
It was a shame Mils Muliaina had to withdraw - he could have shown the form that made him one of our great All Blacks.
It will be a relief to get to the France game and have less talk of options and have what will be our best available team going forward.