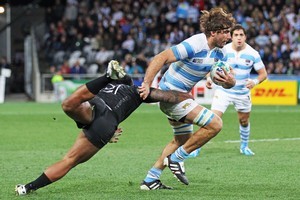 It will all come down to the Argentina-Scotland clash next Sunday (though England vs Scotland could still be influential). The winner of the former clash can expect a quarter-final against the All Blacks (assuming they win Pool A). Andrew Alderson looks at the advantages and disadvantages of both potential foes.
Five reasons for wanting Scotland
1. Jocks yet to hit straps
They are the biggest disappointment of the RWC so far. Two games against minnows (Romania, Georgia) and two ugly and unconvincing wins. The Scots forwards look big but haven't bossed anyone yet and what's left of the much-vaunted back row of the "Killer Bees" (Barclay, Brown and Beattie) have been more like Mildly Annoying Moths, although Kelly Brown has done better.
The backs appeared largely incidental to Scotland's game plan for their match against Georgia - which makes some of the British coverage of this match surprising as they attempted to explain away a dull 15-6 (all kicks) win, admittedly in some of the worst weather Invercargill could offer.
"Scotland refused to duck the challenge and took the Georgians on up front," bellowed Daily Telegraph rugby writer (and former England lock and hard nut) Paul Ackford while other stories in that paper and other UK journals talked about the Georgians' " huge" and "mighty" pack. How huge? Well, so huge the Scots allegedly outweighed them by 50kg.
2. History lesson
Scotland have never beaten New Zealand. Sure, there was the 0-0 draw in 1964 against Wilson Whineray's men, then the 25-25 draw under Stu Wilson's men minus almost the entire regular forward pack in 1983. David Sole's side also got close to the All Blacks in 1990 (21-18) but don't expect a miraculous turnaround on present evidence.
3. NZ's tight five dominance
The Scots struggled in the Romania game and just got parity against Georgia. Add in extra mobility and the All Blacks should be able to govern at the breakdown and set piece. Prop Allan Jacobsen summed up the forward mood after Romania by saying: "I feel like we've been beaten. I feel embarrassed about what happened out there." Things aren't flash.
4. Scotland's goalkicking
The Scots could only slot 56 per cent (5/9) of their conversions and penalties against Romania and 57.1 per cent (4/7) against Georgia whether Dan Parks or Chris Paterson stepped up. That sort of record does not a semifinalist make.
5. The wrong Dan
Dan Carter's decision-making and goalkicking should seal any quarter-final deal. Scotland's Dan Parks (or Ruaridh Jackson) is unlikely to match those capabilities.
Five reasons for not wanting Scotland
1. As yet unseen back play
Sean Lamont, Joe Ansbro, Max Evans and Simon Danielli showed some class against Romania with bugger-all ball. In the 15 jersey, Rory Lamont produced the only genuine star turn in the backs against Georgia.
2. Kelly Brown
Capable of playing at six or eight, he has looked useful whether it be through solid defence or jumping at the front of the lineout. Mesmerising to watch his eyebrows speak, too. As Sky Sport's Scotty Stevenson put it: "They're the best brows since [Sesame St's] Bert".
3. The second-rowers unleash their skills
Richie Gray is the prodigy, Alistair Kellock is the skipper, Nathan Hines is the hard man
and Jim Hamilton is the grafter. If they finally fire, they could give New Zealand problems.
4. Lack of hard games
If the Scots continue with their poor form, the All Blacks will get another easy passage when they may benefit more from a decent struggle.
5. Complacency
We are told it doesn't exist in this All Black camp but a match against an out-for-form team which has never beaten the All Blacks sounds like a possible breeding ground for complacency to us.
Five reasons for wanting Argentina
1. Undefeated
Argentina have never beaten the All Blacks. Sure, there was that 21-21 draw in 1985 when Hugo Porta's boot kept the Pumas in it, not to mention the 24-20 win in 2001 when Razor Robertson had the good sense to score a try in the dying throes. Generally the victories have been sound and convincing.
2. NZ's outside backs
Argentina will need tenacity and technique to haul in whoever the All Blacks put up, especially when serviced by the excellent Conrad Smith.
3. Jerome Kaino
An All Blacks enforcer, yes, but his damaging ball carries will be needed against the tough-tackling Pumas.
4. The loose trio
Argentina are no easybeats at the breakdown or ranging off rucks and mauls, especially with players like Juan Martin Fernandez Lobbe in the mix, but this is where New Zealand can specialise using the foraging and ball skills of Richie McCaw, Jerome Kaino, Kieran Read (if fit) plus Adam Thomson and Victor Vito. They can help feed and link with the backs to create a match of 15 rather than 10-man rugby.
5. The counter-attack
This could force the Argentines out of their comfort zone. Using flair early to create a couple of tries, New Zealand would then just need Dan Carter's tactical kicking as well as discipline in their own half to progress.
Five reasons for not wanting Argentina
1. Latin passion
This is a team playing for respect before they enter next year's Four Nations. They have over 40 media with them - as counted at the team naming press conference last week. Expectations are high and they go a long way on emotion.
2. Consistency
Why should Argentina be worried? They are third in the world based on the 2007 World Cup finish. No getting dispatched in the last eight for them.
3. A powerful front row
Matching the power of Mario Ledesma (80 caps), Rodrigo Roncero (45 caps) and Juan Figallo (five caps) with Martin Scelzo (55 caps) on the bench means scrum doctor Mike Cron could have extra employment soon. Might be time for a scrum session similar to the legendary one Grizz Wyllie instigated for the 1987 pack before the quarter-final against Scotland. That'll be 80-100 thanks, chaps.
4. Professional credentials
This is no longer a side flung together and thrown free flights, a few rump steaks and a couple of bottles of claret for a quadrennial party. Many of the team regularly represent top European club sides.
5. Flair for the unexpected
Just when you think the Pumas' game plan is clear (forward dominance, ball recycling and kicking), they confound the opposition (as they did to France, 2007 RWC), by releasing backs who proceed to run like scalded cats and show previously unseen ability, to throw and hit passes of magical properties, with support players wondrously appearing. Danger.