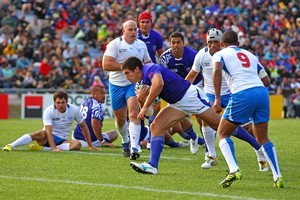 Neither Paul Williams nor Kahn Fotuali'i would go as far as to label it a regret but there is a little bit of both of them that wonders whether they should have committed to Samoa earlier.
Born in Auckland, both grew up dreaming of being All Blacks. Williams came agonisingly close in 2008. He enjoyed the best season of his career with the Highlanders and then Canterbury and ended in a straight scrap with Cory Jane for a place on the end of year tour.
Jane edged it, nailed his chance and Williams knew by the end 2009 that the call-up was never going to come.
Fotuali'i held on for longer. He looked the best halfback in New Zealand for much of 2009 and felt that, after an even better campaign with the Crusaders in 2010, selection was close.
When it didn't come in June, he held on to see if he could make the cut by November and, when he missed out, he finally committed to playing for Samoa.
Williams was 27 when he made his debut for Samoa and Fotuali'i 28 and their story is typical; for most dual-qualified players, Samoa is the second option and they tend to wait and wait, committing only in the latter stages of their career when they are sure the chance to play for New Zealand has gone.
The big challenge is to convince young players to commit earlier - both Williams and Fotuali'i would advise youngsters with dual eligibility to not be blinded by the All Black dream and that playing for Samoa is not the massive step down it perhaps used to be.
"It is a great experience to be part of the Samoan set-up," says Williams. "It is really humbling and a great privilege to represent the country and it has been a great opportunity for me to reconnect with the culture. For players out there, I would say don't discredit it and throw your name in the hat. This is a force to be reckoned with."
In the past, reluctance to commit has stemmed from multiple factors - not least the greater money and prestige on offer from the All Blacks. But that is all changing.
"Nowadays good Pacific Island players can earn as much offshore as All Blacks can in New Zealand," says former Samoa captain and current Blues coach Pat Lam.
The shift to direct contracting in New Zealand has also improved remuneration terms for Samoan and other Pacific Island internationals. Previously, the New Zealand Rugby Union offered only minimum contracts to those not All Black-eligible.
Rupeni Caucaunibuca, then one of the biggest stars in the world game, could earn only $75,000 a season when he played for the Blues in 2003 and 2004. Now, a franchise can pay up to $180,000 for whoever they like.
There has also been a quiet revolution in Samoan rugby in the past four years. Improved funding from the IRB after the last World Cup enabled Samoa to build a high performance centre. Money has allowed talent identification and development to improve and domestic players have a better handle on nutrition and conditioning.
But the real driver has been the number of Samoans playing offshore. The entire starting XV that played Namibia is contracted professionally, mostly in Europe. That was so in the 2007 World Cup, where the majority of Samoa's squad were full-time rugby players.
The difference now is that most of Samoa's team have been professional from an early age. The likes of Williams and Fotuali'i, as well as George Pisi, Seilala Mapusua, Census Johnston and Tasesa Lavea have been exposed to high performance cultures since they were in their late teens. Good habits are ingrained; as Samoa showed when they defeated Australia pre-tournament, they have players with belief.
Most of the squad are used to pressure rugby. Alesana Tuilagi has been a regular with Leicester for most of his career. He plays intense rugby every week, as does Ti'o Paulo, formerly of the Crusaders and now with Clermont.
The arrival of Hawke's Bay's Tom Coventry and former Canterbury boss Aussie McLean has helped foster a more structured, organised environment, as well as improve relations with European clubs.
There have been issues in the past gaining player release for the World Cup, even though it is an IRB requirement. But McLean spent much of last year touring the major clubs, outlining the new standards in the Samoan camp and provided guarantees that Samoan players would be returned to their clubs in good shape.
"It is getting more professional and that is what the boys need so they can believe they can succeed in their careers," says Fotuali'i. "As soon as I made the decision to play for Samoa, I felt 100 per cent sure about it. I didn't have any regrets."
The missing piece in the package is being able to offer regular, high quality international football. Samoa would love to be part of a tournament in which they would play against the All Blacks, Wallabies and Springboks. That would make it considerably easier to persuade dual-qualified players to commit earlier.