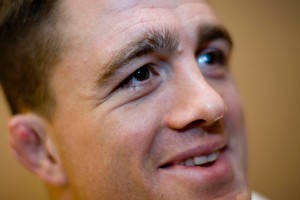 As the injured Andrew Sheridan flies home, the dilemma facing England is that they do not have the faintest notion of who their number one No. 1 should be.
There are two contenders: the young London Irish prop Alex Corbisiero, who performed so well against such intimidating opponents as Martin Castrogiovanni, of Italy, and Nicolas Mas, of France, during this year's Six Nations, and Matt Stevens, of Saracens, who has returned fitter, stronger, more focused and a whole lot happier in mind and spirit following his two-year drugs ban.
Both men are good technicians and both have some football about them.
Stevens' offloading game, first developed during his spell at Bath, is worth its weight in gold in modern rugby, while Corbisiero's ability to take difficult passes and give good ones is equally striking.
At 29, Stevens has had his share of rough passages in the scrum and survived to tell the tale. At 23, Corbisiero experienced a difficult hour or so against Mike Ross, of Ireland, in the Grand Slam match at Lansdowne Road last March, yet finished so strongly that all questions about his competitive make-up were answered there and then.
There are even similarities in their far-flung backgrounds, Stevens raised in his native South Africa and Corbisiero born in New York and representing the USA at age-group level. Neither man comes across as the stereotypical troglodyte frontrower. In many ways, they both represent a new breed of professional prop: smart, multifaceted, rather sophisticated.
If one thing separates them, it is Stevens' greater versatility. Corbisiero has done many a turn on the tighthead side of the scrum at club level, but the World Cup-winning England prop Jason Leonard believes he is far more comfortable on the left of the scrum.
His rival, on the other hand, is the real deal when it comes to mixing and matching roles. Stevens has played most of his test rugby as a tighthead, but helped Saracens to a first Premiership title last season from the loosehead position. This makes him a priceless asset on the bench.
That said, if Corbisiero starts against the powerful Georgian scrummagers in Dunedin on Sunday and emerges in one piece, he too could have a significant role.
- Independent