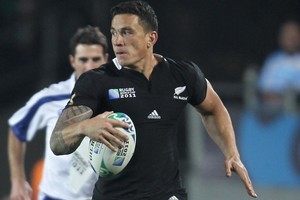 The sense of drama that hung in the air today as a result of senior All Blacks pulling out of Friday's test needn't become a national obsession.
Richie, Dan, Mils and Izzy - it's the World Cup and time to be overly familiar with the men entrusted to end the agony - they are all going to be just fine.
Their respective withdrawals from Friday's test with Japan are precautionary and the decisions were taken to prevent minor muscle strains becoming major tournament-ending injuries.
If the All Blacks were playing the World Cup final today all four men - Richie McCaw, Dan Carter, Mils Muliaina and Israel Dagg - would most likely be declared fit to play and they are expected to recover to be fit for the critical game against France next Saturday.
But with attention fixed on the walking wounded, All Blacks' coach Graham Henry managed to slip in a much juicier revelation that had a genuine dramatic appeal - Sonny Bill Williams is likely to appear off the bench in an unfamiliar role.
Williams made an eye-catching World Cup debut against Tonga and did enough to persuade the selectors to put him on the bench. He's the kind of player any coach would want to have in the mix - he's high impact, a massive threat with ball in hand and capable of destructive defence that rattles opponents and wins back the ball.
But the problem is where to play him? If there is one lesson learned from the last World Cup it is the need to have settled combinations in critical areas of the field.
Henry knows the value of fielding Ma'a Nonu and Conrad Smith together at 12 and 13; they are now close to being one of the best partnerships in All Black history.
To break them up - either in the original selection or during the game - carries an element of risk. Yet Henry wants to inject Williams into the contest. On Friday night it might be that we see Williams on the wing with a licence to roam into the midfield and hit the ball at full tilt.
"He played well last week and we wanted to give him another opportunity and he'll probably come off the bench," said Henry of Williams. "He may even play in another position to see if he can handle a variety of positions.
"He has played virtually all of his rugby this year at No 12 so we might try to play him elsewhere - we'll just wait and see because he's a quality footballer and he creates opportunities.
"The two centres we have got - Nonu and Smith - have played a lot of games together. So he [Williams] might break in there or he might play in another position."
As well as Williams played against Tonga, the coaching panel would still like to see him challenge the line more himself and attack defences by picking a direct line and forcing them to handle his physical strength.
When he comes onto the ball at pace he tends to more easily get his hands free to make the off-load. Invariably he beats the first man and often the second as well, and some time on the wing may build his confidence in that regard.
Whether he has the express pace is doubtful but he's certainly got the physical presence to score from short range and bust big holes if he goes looking for work.
As a crazy thought, with loose forwards' stocks as low as they are, maybe Williams will play on the blindside. That would be radical and dramatic - and something to keep everyone from worrying about injuries to McCaw and Carter.