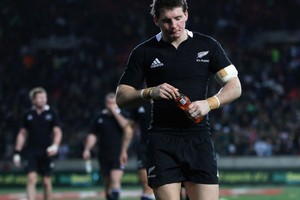 All Blacks keen to have backline star fully fit for important match against France.
Carter down. Word of the All Black casualty quickly flashed around New Zealand and no doubt into all their rivals' intelligence briefings.
Now the side's backline general is in a race to recover for the side's crucial third-round game against their World Cup nemesis France.
Carter succumbed to a back injury yesterday and was replaced by Colin Slade for tomorrow's second round match against Japan.
"The key thing is that Daniel had been recovering well from a stiff lower back," All Black Dr Deb Robinson said. "However, he pulled up sore at an indoor training session so we have made the decision not to risk him for the Japan match and we will aim to have him back fully training next week in preparation for the France test."
Those spooked by injuries to key All Blacks will note that Carter was also hurt before the All Blacks loss to France in their World Cup quarter-final in Cardiff in 2007. He started the match, but was replaced by Nick Evans who was also then replaced.
The 29-year-old Carter suffered a stiff back and wrist problem in the All Blacks win against Tonga to open their World Cup campaign. He had been treated for the injuries and was named in the side to play Japan though coach Graham Henry mentioned he would have to survive training.
"We are quite flexible on that decision," Henry said before training. "Really it's up to Dan to let me know whether he's right or not. He's keen obviously, but he won't play unless it's right."
It wasn't, and now the anxiety and guessing games will ratchet up a notch until he wears the black No 10 jersey again.
Fullback Mils Muliaina is under a different kind of pressure. Seldom, during his outstanding All Black career, has Muliaina been under such heat.
Israel Dagg is demanding his fullback jersey and riding a surge of populist demand to be given the duties at the sharp end of the World Cup. He claimed that role for the initial game against Tonga, but Muliaina has been reinstated for his 99th test tomorrow against Japan.
That contest is on familiar territory on his home patch at Waikato Stadium, where Muliaina will be surrounded by the bulk of the side expected to be chosen for the crucial pool game with France.
Muliaina and several others do not fit into the selection certainty category. Similar doubts hover around lock Sam Whitelock, flanker Adam Thomson, halfback Andy Ellis, and perhaps Richard Kahui who has been switched to the left wing this week.
Captain Richie McCaw will become the first player in New Zealand's rich rugby history to play 100 tests while senior hooker Keven Mealamu has returned with centre Conrad Smith who will play his 50th international.
Most curiosity tomorrow night may focus on Muliaina and whether his form is enough to keep his place.
From the ugly evening in Wellington in 2003 when he slipped on to the Cake Tin surface as a substitute, Muliaina has rarely dipped below average and has seldom been challenged for his job.
There were early spells when Leon Macdonald jousted for the role; Nick Evans was tried and the selectors used Muliaina in his previous wing and centre roles.
Others like Isaia Toeava, Cory Jane and Dagg have had their turns, but they have been temporary custodians. Until now.
Muliaina has lost a shade of snap and Dagg is bursting with vitality. Each time he has been used he has impressed with his range of attacking skills and positional awareness.
"As far as fullback is concerned I think it is still a contest," Henry confirmed.
"We've got a gentleman who has played 98 test matches and who has played some fabulous rugby for the All Blacks over a long period of time, playing against a young guy who could be a very, very good player.
"It is a contest, and that's great for that particular position, and I think the rest is pretty solid quite frankly."
Muliaina had settled well into the most competitive environment he had witnessed in the All Blacks, after sitting out the opening game of the tournament.
"Reflecting on past performances really for me was the big thing and getting past the disappointment of not being named in that first team last week but it gave me a chance really to soak up a bit of the hype," he said.
"It was massive in Auckland, but I get an opportunity now to go out and play well and stake a claim for a starting position."
He was not sure why his work this year had been flat. He had felt all right but his last test against the Wallabies in Brisbane had been quiet and reflecting on that had been tough.
"I think you get a bit of a kick up the backside and all of a sudden the flatness becomes excitement so I can't wait to get out there and play especially in the Waikato and hopefully having a big game."
ALL BLACKS
Tomorrow, 8pm, Hamilton.
Referee: Nigel Owens (Wales).
All Blacks: Mils Muliaina, Cory Jane, Conrad Smith, Ma'a Nonu, Richard Kahui, Colin Slade, Andy Ellis, Adam Thomson, Richie McCaw (c), Jerome Kaino, Sam Whitelock, Brad Thorn, Owen Franks, Keven Mealamu, Tony Woodcock
Japan: Taihei Ueda, Takahisa Usuzuki, Koji Taira, Yuta Imamura, Hirotoki Onozawa, Murray Williams, Atsushi Hiwasa, T. Kikutani (c), Michael Leitch, Itaru Taniguchi, T. Kitagawa, Hithoshi Ono, Nozomu Fujita, Yusuke Aoki, Naoki Kawamata
All Blacks reserves: Andrew Hore, John Afoa, Ali Williams, Victor Vito, Jimmy Cowan, Piri Weepu, Sonny Bill Williams.
Japan reserves: Hiroki Yuhara, Kensuke Hatakeyama, Yuji Kitagawa, Sione Talikavili Vatuvei, Tomoki Yoshida, Shaun Webb, Alisi Tupuailai.