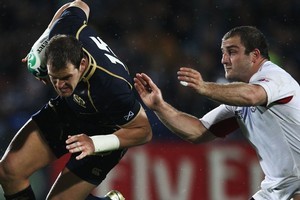 Take note, Scotland are not much chop. And Georgia are not great either.
Both are big and hard, and know how to hit the ball up.
But if you are looking for enterprise, finesse and some classy touches then a drizzly Invercargill was not the place to be tonight.
Scotland ran out the winners 15-6 in a tryless encounter over Georgia, after it led 9-3 at the break.
It was a match where there were few line breaks and game breakers were in short supply.
This was trench warfare sort of stuff. Neither team looked as though they had practised a sidestep at training during the week.
Route one, up the middle, was the preferred option, with Scotland in particular ignoring overlaps in its backs.
The Scottish side had plenty of ball but made mistakes at critical occasions while Georgia struggled for both territory and possession.
Scotland first five-eighth Dan Parks kicked the ball endlessly while Georgia also followed the 10 man rugby rule book.
The opening exchanges were brutal and everything that had been said about the tough Georgian forward pack was there, front and centre.
Scotland tried to somewhat naively take the Georgians on up front early on but got nothing out of them and failed to make many metres.
Georgia scored the first points of the game midway through the first half with first five-eighth Merab Kvirikashvili knocking over a monster penalty from 52m.
But Scotland grabbed the ball from the kick-off and had an immediate chance to even the scores but Parks scuffed his kick.
Parks though did not make the same mistake three minutes later to tie the score up.
Scotland began to hang on to the ball and the over eager Georgians started conceding penalties.
But the Scottish side lacked any penetration and could not find a way through the Georgian defence.
Parks put his side ahead just past the half hour mark with a penalty from near touch.
He then snapped over a dropped goal to give his side a scratchy 9-3 halftime lead.
Best for the winners were No 8 Kelly Brown and prop Euan Murray while for Georgia No 8 Dimitri Basilaia ran the ball up hard.
Scotland 15 (Daniel Parks 4 pens drop goal) bt Georgia 6 (Merab Kvirikashvili 2 pens)
Halftime: 9-3.
Crowd: 10,267
- APNZ