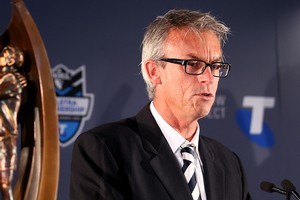 David Gallop. Photo / Getty Images
NRL chief executive David Gallop has been forced to apologise after using a terrorist analogy to describe the Melbourne fans who booed him on the weekend.
In the first sign that a difficult few weeks may have taken their toll on the NRL supremo, the normally ice-cool Gallop appeared to lose his composure when responding to questions over his treatment at AAMI Park on Sunday.
Gallop was drowned out by boos from the Storm faithful during his presentation of the JJ Giltinan Shield to Melbourne chief executive Ron Gauci.
The vitriolic response was a remnant of fans' disgust after the club was stripped of two premierships for rorting the salary cap.
When a Queensland regional radio station on Monday night suggested the booing was a sign of the passion among the Storm supporters, Gallop said: ``I never really go for that whole passion line,'' Gallop told Crocmedia.
"I mean, terrorists are passionate about what they do and, you know, that doesn't make it right.''
Pressed on his use of the analogy, which came on the same day Americans were acknowledging the tenth anniversary of the September 11 attacks, Gallop said: "Well, it's a topical one at the moment.''
The NRL went on the defensive on Tuesday, with Gallop appearing on Sydney and Melbourne radio programs, attempting to explain his use of the analogy before finally issuing an apology for any offence it might have caused.
"I was responding to a question suggesting that what happened on Sunday was okay because it was just a demonstration of passion,'' Gallop said.
"I said that passion can't be used as an excuse for bad behaviour and the timing of the analogy I used to emphasise that certainly could have been better.
"As we all do with analogies, you look for a topic on which there can be no debate.
"It wasn't intended to create offence.''
Gallop's trip to Melbourne - his first of 2011 - capped a tough period for the NRL chief executive.
Just over two weeks ago, he made a much-publicised trip to Brookvale Oval to watch Manly take on the Storm, the first time he had seen either side play live in 2011.
He was abused by some Sea Eagles supporters on that occasion, with the club and its fans still upset at the NRL's decision to suspend fullback Brett Stewart for the opening four games of the 2009 campaign over his conduct at the club's season launch.
"I was disappointed in what took place on Sunday, as much as it was to be expected, because the behaviour in no way reflected the outstanding achievements of the club and of those supporters who have made a point of looking forward rather than back,'' Gallop said.
"Passion is a key part of sport but it can't be the justification for everything and it shouldn't be allowed to get in the way of seeing the club's achievements recognised.''
Former Newcastle and Cronulla playmaker Matthew Johns - who as part of Triple M's The Grill Team spoke to Gallop on Tuesday - said the comment could hurt the NRL's standing in Melbourne.
"As a rugby league fan, I'm knocked about,'' Johns said.
"Given the amount of money and resources we have spent on luring Melbourne people to rugby league, I'm dumbfounded by it.''
Gauci said the club would not enter into the debate, but fans continued to vent their frustration on the Storm's Facebook page.
- AAP