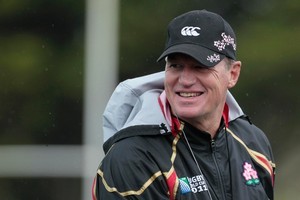 It goes against every rugby instinct in John Kirwan's body.
He'd love to pit his best Japanese combination against the All Blacks on Friday, to give them that Rugby World Cup stage to understand the heat at the very top international level.
However, Kirwan knows he has to be pragmatic. His side has more chance of finding victories in their other pool games with Canada and Tonga.
"This tournament is about team goals, and we want to win two games. And with the turnaround we've got, we have to be very careful with what we do," he said.
"Everyone has done the same amount of running, everyone has done the same amount of weights and the same amount of everything.
"If we are going to achieve our goals, we are going to need all 30 players in our squad. So I think world cups are all about giving everyone a crack at it and then picking the best team."
Kirwan will announce his side today, but indicated only captain Takashi Kikutani and few others would return from the combination which ran France close for much of their opening match at North Harbour Stadium.
"This is about dealing with tournament play. We need to be sensible, and I think Graham Henry will be doing something similar.
"Each team has different goals, and we have to keep an eye on ours, and it is a huge opportunity for our guys to play themselves into the next selection."
Kirwan was impressed by much of his side's organisation in their start against France. But they made a few mistakes when they lost their shape as they were clawing their way back into the match.
They tried to look for a try instead of forcing France to concede penalties and then kicking for goal or booting into the corner.
But the experience had been superb for his side, and he believed there had to be much more interaction between first- and second-tier sides. Teams like Scotland should have to play others like Japan much more.
"We had a plan and we kept to it for most of the test," Kirwan said.
"We've got to play our style. There will be subtle changes because of the All Blacks, but we have come to play our style of rugby and I'm sure they have looked at that and will have their plans to counter it.
"We stayed under the radar before France, and now people know how we play, so the All Blacks will be strategically different."
Japan needed to tighten some of their work, especially at setpiece, but the coach had been content with their attack and if they managed to hang on to the ball more, they would threaten defences.
"We'll need to be on our game. If we give them possession, if we let them dictate the game, we'll be under the pump.
"It's all about accuracy. If you're not accurate, you get punished by the All Blacks."
Centre Ryan Nicholas said this test would be no different from others. It was all about pressure, absorbing and creating it.
"It's about playing our game and holding on to the ball as long as possible," said the midfielder. "When they've got the ball, we've got to pressure them.
"We showed that against France. With pressure, pressure, pressure you can create chances."