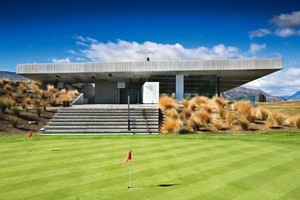 It might not be the New Zealand Open but a revived golf tournament could get The Hills back in the spotlight next year.
The New Zealand PGA is investigating hosting the PGA Championship at the exclusive Arrowtown course in March.
It is assessing the feasibility of a full four-round tournament, which would include a pro-am event.
The Hills hosted three successful New Zealand Opens in 2007, 2009 and last year before losing the hosting rights to Clearwater, on the outskirts of Christchurch.
Clearwater was the previous base of the New Zealand PGA Championship, but the tournament slipped into relative obscurity last year when it lost its naming sponsor and major sanctioning partner.
The proposed event at Arrowtown would feature amateurs pre-qualifying to play with the 64 leading professionals over the last two rounds of the four-round championship.
In the New Zealand PGA newsletter, chief executive Duncan Simpson enthused about the plans.
"The pro-am format is unique in this part of the world, and we believe it will have considerable appeal," Simpson said.
He hoped the event could "lead to a sustainable funding formula for the tournament, which we see as ultimately building to OneAsia status or the equivalent".
Simpson hoped the feasibility study, led by former New Zealand Football boss Michael Glading, would reveal by the middle of next month if the championship was possible.
"If not we are confident we will get the tournament up in 2013, our centenary year."
The Hills director of golf Craig Palmer said it was a matter of finding enough sponsorship.
"Hopefully by the middle of next month we should be getting close to knowing if we can push against it and make it happen next year, or maybe we need a little extra time for the following year."
Palmer said The Hills was confident the format would have appeal.
There was commitment from the PGA and The Hills to build the event over a number of years, he said.
"I think it will have a huge impact [on Wakatipu businesses].
"I think it is quite a good time of the year to be having the tournament and the New Zealand Open brought a huge number of people to the area and helped out a lot of the local businesses, so I don't see why this tournament will be different.
"We have plans to hopefully grow it to the stage where it's possibly on one of the major Asian tours before too long."
Otago Daily Times