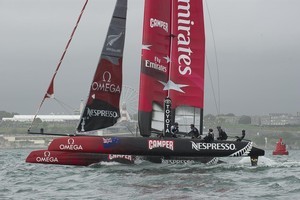 Team New Zealand have won the preliminaries of the America's Cup World Series regatta at Plymouth.
Finishing second in yesterday's long-course fleet race, Dean Barker, James Dagg, Winston Macfarlane, Glen Ashby and Ray Davies earned 37 of a possible 40 points from the four races held at the weekend.
Oracle 4 was second with 36 points and Artemis Racing third on 29.
But the day will be remembered for the three yachts that capsized and Artemis retiring with gear damage. No one was hurt when first Aleph, then Team Korea and finally GreenComm Racing went over.
The teams raced in winds gusting above 25 knots, stronger than any breeze they had previously encountered on the ACWS circuit.
"It was tough out there today and the conditions were very much top end racing for these boats," said Team New Zealand skipper Dean Barker. Barker said they had a minor collision with Artemis but luckily came out of it with just a minor ding in the boat.
The fleet race was followed by another round of time trials. Two timed runs were scheduled for each team over the 500m course. But with four yachts back at the dock and Oracle 4 not completing the runs, there were only four contenders.
Oracle 5, with a run of 48km/h was fastest yacht, with Team New Zealand on 47.36km/h second.
The wind was expected to build again overnight. Teams take a scheduled two-day break from racing and the regatta restarts on Thursday with three fleet races.
"Overall we're feeling pretty happy going into the business end of the regatta and have learnt a lot over the last few days," said Barker. "Still we made mistakes out there today so our focus is on lifting our game and ensuring that we don't repeat them again come Wednesday."
Leaderboard
1 Team New Zealand 37 pts
2 Oracle Racing 4 36
3 Artemis Racing 29
4 Oracle Racing 5 26
5 China Team 22
6 Aleph 20
7 Energy Team 19
8 Team Korea 17
9 Green Comm Racing 13.
- APNZ