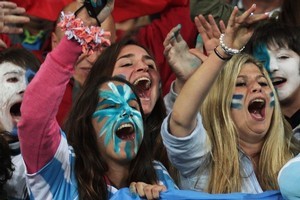 Dunedin burst into life on Saturday as the city prepared to host its first Rugby World Cup game in 24 years. Walking around the town after a couple of days now and you could see the swell in numbers of supporters from both sides eager to take in the crunch match in Pool B between England and Argentina.
Parts of the centre of the city were shut off for local bands to treat an appreciative audience to some local music. As we wandered the streets it was getting clear that there was an abundance of Argentine fans, in full costume and full voice. Cars streamed past with groups of Pumas fans beeping horns and waving flags at everyone making it clear they were town.
On the other side of the fence the England fans kept a relatively low profile, relaxing in bars and catching up on pool B rivals Scotland, who played Romania.
English support away from home across all sports is admired across the world, so why such a lack in numbers I wondered.
Initial estimates from the local council pitched 13,000 England fans would descend on Dunedin. But it seemed not even half of those had arrived.
Come game time, wandering from our cheap student digs towards the impressive Forsyth Barr stadium, a couple more England fans added to the atmosphere. Disappointingly chants of "Vamos Argentina" rang out as we walked towards the beautiful 30,000-capacity venue.
Then it clicked: it wasn't all Argentinians who made the 6,000 mile journey to Dunedin. There were passionate local supporters who were swelling the numbers of the Puma's fan base.
Decked out in anything they could find to support the underdogs (mainly soccer shirts with Messi on the back) they joined in as if seasoned fans of the South American side. It just shows how passionate the locals are for the game in Dunedin, especially how eager they are to embrace any side playing at Otago Stadium.
Arriving early into the impressive indoor venue you could feel the atmosphere bubbling over. With steep banked seating close to the sidelines you just knew the action inside, coupled with passionate underdog support, would make this a tricky matchup for the English.
The game was a tight, close affair and the passionate away support proved an initial stumbling block for the English. The Puma fans were in full voice during the game and this was boosted further by the acoustics in the roofed venue. In a tense game in which Johnny Wilkinson missed five kicks before Ben Youngs scored his second test try with just 13 minutes before final whistle, the English scraped to victory - 13-9.
Perhaps the fierce atmosphere coupled with no wind in the world's first fully-enclosed grass arena was the reason for the talismanic Wilkinson's lack of accuracy through the posts.
Let's hope he and England can improve in the next match up against Georgia at Otago Stadium.
Follow Mitch's Rugby World Cup adventures in New Zealand on Twitter: @NotSweetChariot