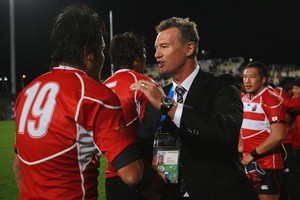 It is the nature of the Rugby World Cup, particularly in the pool phase, that a team beaten by 26 points can be lauded and the winners lambasted.
It's what the All Blacks face in the next fortnight as they tackle a Japan side (the losers) riding high and a French side (the winners) under intense pressure.
Japan threatened to cause one of the upsets of World Cup history when they trailed France 25-21 with 13 minutes remaining on Saturday.
They then conceded three tries in the final 10 minutes but that didn't dampen Japan coach John Kirwan's appreciation of his side, who didn't lack for motivation.
"We spoke about it before we played, especially [about] the tsunami in the Tohoko region," Kirwan said.
"The result wouldn't matter because people in their living rooms in Japan would understand what courage is and we needed to show that courage by continuing to play, continuing to get up and tackle. I think people warmed to us because they saw that courage on the field.
"It was important for us to play well. It was important for us to show the world we are a very competent football team, that we can put phases together and we can attack, and defend, for long periods of time. Tonight was about exploding on to the scene and making sure we play to our level. We will take confidence out of that.
"World Cups are different for everyone. It's a special tournament and creates pressure. So it's important you take those moments.
"To France's credit, we had them under the pump but, unfortunately, we couldn't come away with that try that would take us ahead."
Saturday's performance will do little to help France coach Marc Lievremont regain the trust of his players, who he has had a testy relationship with since France's 22-21 loss to Italy.
He publicly condemned his team after that match but had to apologise; he was again critical of them last week in training.
Lievremont's position was hardly helped when the French Rugby Federation named his successor, former winger Philippe Saint-Andre, before the World Cup began.
Lievremont will step down after the tournament.
He had every reason to be dissatisfied with his side's performance against Japan, especially after they built a 20-3 lead inside 30 minutes and looked like they would run away with the game.
Although they lacked fluidity throughout, they were dominant up front - especially at scrum time - but got sucked into playing Japan's helter-skelter style of rugby and lost their way. They lacked the commitment of the curiously-named Brave Blossoms and, when defeat seemed a possibility, the players looked as white as the strip they were playing in.
"Maybe they thought it was going to be an easy evening, especially after the first two tries and it was quite easy," Lievremont said.
"I think everybody thought it was going to be easy and without having to support the other players they were going to have a nice evening but it didn't happen like that. This is a World Cup match and we have to do better.
"I am not happy but it wasn't a surprise. It was more a disappointment. But we won the game and winning was the most important thing for me," he said.
"After 60 minutes, the players weren't mobilising enough, were not playing enough and the Japanese were completely unleashing their game so we had to come back to a simpler game and be more convincing."
It would be dangerous, however, to write off the two-time World Cup finalists. The All Blacks know that only too well after what happened in 1999 and 2007.
- APNZ