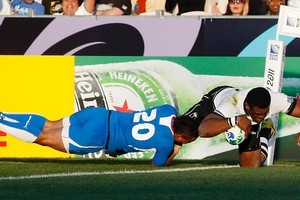 Close, but not quite.
That's been the story for those wishing, nay praying, for a genuine opening-weekend upset at the World Cup.
We looked to Romania, Namibia, Japan, the United States and, okay, for these purposes let's include Argentina, to make a statement on behalf of the unfancied.
It didn't happen but they had their moments, especially Romania and Japan.
As for Argentina - third in France four years ago, but with an ageing team tipped to struggle here - they should have beaten England in Dunedin on Saturday night, and surely would have but for the lack of a goalkicker with nerve.
Just imagine: Romania joint top of pool B with Argentina; Japan nestled in behind the All Blacks in pool A. The Scots, English and French would demur, but this World Cup would be off to a rip-snorting start.
The result the little guys craved could most easily have come in Invercargill, where Scotland needed late tries to see off bold Romania.
Their World Cup track record is not flash - ever-present but rarely making a splash. Four years ago the Scots won this encounter 42-0.
So Scottish hearts would have been fluttering at 24-21 down 14 minutes from the end. A couple of late Simon Danielli tries got the Scots over the line, but had Romania hung on no one would have called it a fluke; none would have begrudged them their greatest World Cup moment.
Namibia gave Fiji plenty of cheek in Rotorua, and three dropped goals in four minutes by their first five-eighths, Theuns Kotze, deserves a credit line all its own, before being run down.
Japan's Blossoms were desperately brave and skilled and when they got within four points of France early in the second half, at 25-21, the boisterous full-house crowd at North Harbour Stadium - and this column claims that line has never been written before - was in uproar.
Japan did have a small window but couldn't force it open. France weren't particularly smart for much of the contest, but three tries in the closing stages got the job done.
"We can, and owe it to ourselves to do better," said France's coach, Marc Lievremont, afterwards.
No argument here, but let no one patronise the Japanese, whose play had vim, complete absence of fear and total commitment.
The final scoreline notwithstanding, ink this in as a highwater mark in Japanese rugby.
That said, France showed enough, when the cogs were in sync, to suggest they, again will be the Northern Hemisphere's best chance at this tournament.
The US, on an emotional night, marking a decade on from the 9/11 terrorist atrocity, were always going to be pushing uphill against Ireland.
Which brings us to Argentina, who join the Tri-Nations next year, and not before time.
How they may come to rue their first visit to the superb indoor stadium at Dunedin.
How they must have lamented the loss through injury of the expert first five-eighths Juan Martin Hernandez.
He, you'd pick, would have stroked over some, if not all, of the six unsuccessful Argentine penalty attempts without missing a beat.
Not that Jonny Wilkinson was much better, missing five of seven penalty attempts.
Does this mean the renowned perfectionist's crown is slipping, or was it just an aberration?
"I'm a bit better when my back is to the wall," he said, which raised the thought that trailing 9-3 and with the clock running down in their opening game of a tight group seems a moderately backs-to-the-wall situation.
Lord, England were awful, and had they lost it would have put a large cat in the pool B aviary. Instead, the result has Argentina staring at a quarter-final against, probably, the All Blacks. That's how important the win was on Saturday night.