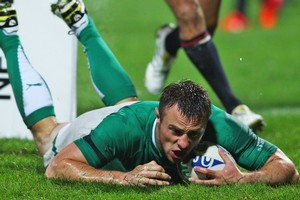 Ireland 22 USA 10
Most players chill out on game days. Some sleep or listen to music and others play cards.
For the American players today, they went to a powerful memorial service that reduced many to tears. As far as team talks go, it will be difficult to find one dripping with such emotion.
Whether Rugby World Cup organisers did it deliberately or not isn't clear but the United States opened their World Cup on the 10th anniversary of September 11. A rugby game that might not normally have attracted much interest suddenly became the focus. Both teams observed a minute's silence and wore black armbands in remembrance of the 2996 who died 10 years ago and the Americans belted out the Star Spangled Banner like they wanted the world to hear.
It all provided powerful motivation for a side with little World Cup pedigree. It clearly worked because they trailed an Irish side targetting a first visit to a World Cup final by 3-0 just 23 seconds before halftime and enjoyed good periods of possession and territory.
What limitations the Americans had, they made up for with passion. They employed a frenzied defence, launching themselves at Irish ballhandlers, and forced their more fancied opponents into mistakes.
Ireland's set piece work was very good, particularly the scrum and they waltzed up the field 10m in the first scrum of the match to prove technique beats emotion every day. But they struggled to build fluidity early on as errors blighted their game and didn't take advantage of the 70 per cent territory they enjoyed.
It didn't help that Irish first five-eighths Jonathan Sexton kicked only two from six attempts before he was replaced by Ronan O'Gara 50 minutes into the match, which would have provided encouragement to the United States.
It wouldn't have been an easy day for Ireland, who had to contend with the emotion-charged atmosphere, and they were also up against former Irish coach Eddie O'Sullivan in the opposition's camp.
But a lot of the favourites have so far struggled in this World Cup and they managed to gradually impose themselves on the game and finally took control on the hour. It was inevitable the American line would finally breach, given they were asked to make nearly twice as many tackles as the Irish, and there was too much experience and nous in Ireland's side not to take advantage.
Hooker Rory Best burrowed over for a try in the corner and wing Tommy Bowe crossed for his second of the match after a good break from captain Brian O'Driscoll down the left flank to jump out to a 22-3 lead.
Lock Paul O'Connell was imperious in the lineouts and O'Gara controlled things well when he came on - a clever chip kick close to the line nearly produced a fourth try - but there were too many turnovers to be satisfied.
It was appropriate the United States had the final word when centre Paul Emerick intercepted and ran away 50m to score under the posts. It was reward for their total commitment throughout.
Ireland will be happy to have emerged largely unscathed and were probably pleased to be tested like they were with important games against Australia and Italy to come later in the tournament.
For America, they won't be able to escape the symbolism with their next game against former Cold War rivals Russia in New Plymouth on Thursday.
Maybe the players will revert to watching DVDs again. Rocky IV, anyone?
Ireland 26 (Tommy Bowe, Rory Best tries; Jonathan Sexton penalty, conversion; Ronan O'Gara conversion), United States 10 (Paul Emerick try; James Paterson penalty, conversion). HT: 10-3.
- APNZ