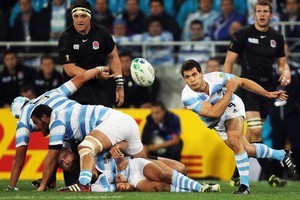 It was Agustin Pichot, the livewire halfback, inspirational captain and driving force behind the emergence of Argentina as a rugby power, who voiced the fears of a nation.
"Let's be rational," he said when asked recently whether Argentina could win their opening match, "England should win by 30 points."
Under the roof at Stadium Otago, Argentina proved that sport can be utterly irrational.
Yes, they lost, in the end by a cruel four-point margin, but they gave England a hell of a fright along the way.
It was a game of crunch and thump, completely different from the verve of the day's earlier matches. Some call it proper rugby, others call it less kind things.
It suited Argentina, though they would have been mortified to lose playmaker and goalkicker Felipe Contepomi early and centre Gonzalo Tiesi before halftime.
They were fortunate not to lose veteran hooker Mario Ledesma after an awful knees-first tackle by an over-stimulated Courtney Lawes.
Argentina was clinging to a 6-3 lead at the break and probably deserved a little more, but England has a proud tradition of winning wars of attrition.
The shocking kicking of Martin Rodriguez was costly, but then again, superboot Jonny Wilkinson's radar was off too.
There was a sense before this match that Argentina's performance in France four years ago was a wonderful aberration. The sniping of Pichot, the tactical excellence of Juan Martin Hernandez and Contepomi, the grunt and grind of Juan Martin Fernandez Lobbe, a grizzled front row and some dazzle from Ignacio Corleto, was a perfect mesh of talents honed in Europe's big leagues.
But a team that plays together so infrequently should struggle to maintain excellence.
When some of that core is missing - in this case Hernandez, Pichot, Corleto and, as it turned out, Contepomi - the decline and fall ought to be precipitous. It is to coach Santiago Phelan's credit that they still look a force to be reckoned with. Phelan would recognise, too, that any team that has Lobbe - who has the rare ability to play with a rage and make good decisions - has a chance.
His loose forward colleague Juan Manuel Leguizamon was just as impressive.
The Scots, judging by their stuttering win against Romania, should be worried about their September 25 date in Wellington.
Argentina have played 18 tests since beating hosts France for third place four years ago.
Since November last year they have played a couple of meaningless jollies against Uruguay and Chile, 'tests' in which their European-based players were not released, and lost heavily to Wales at Cardiff. That's not a sample but a sum total of their 2011 international exposure.
Following their World Cup heroics in '07, Pichot travelled the world preaching the importance of a strong Pumas side to the IRB and various member nations. He always received a sympathetic ear, which was followed up by near-duplicitous inactivity.
Finally, they get their chance next year.
The Tri/Four-Nations will be richer for it, just as the World Cups have become far more intriguing with a strong Argentina.
LOS PUMAS' LEAD-UP FORM
Aug 2011: v Wales, Cardiff, lost 28-13
May 2011: v Uruguay, Posadas, won 75-14*
May 2011: v Chile, Cataratas, won 61-6*
Nov 2010: v Ireland, Dublin, lost 29-9
Nov 2010: v France, Montpellier, lost 15-9
Nov 2010: v Italy, Verona, won 22-16