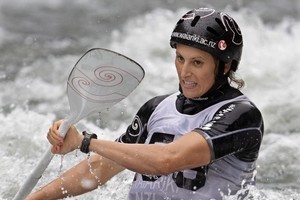 Luuka Jones has continued New Zealand's proud tradition of sitting down and going places. The Tauranga whitewater slalom kayaker booked a spot at next year's London Olympics yesterday with a powerful performance at the world championships in Slovakia.
In another vintage day for Kiwi kayakers, Tauranga paddler Mike Dawson also kept his Olympic chances alive by qualifying 10th for tonight's semifinals.
It was a bitter-sweet day for 23-year-old Jones, however, who became New Zealand's first female slalom Olympian in Beijing three years ago. She qualified for London as the 14th-fastest nation in the K1 women's division but was left lamenting two touched gates as she missed the semifinals by an agonising 0.15s.
"I knew there was no room for mistakes but also no room for holding back or hesitating," Jones said. "My flatmate told me 'you gotta pin it to win it' and I just went all out and had a sweet run but unfortunately picked up two 2s penalties touching gates at the top of the course."
Her raw time of 101.46s would have been good enough for seventh, but the two touches bumped her 25 places down to 32nd.
"My raw time showed the improvements I've been making and a jump up in speed. While it would have been a great end to the season to get through to the next round, I know that I'm fast enough and can take some really positive things from this race."
Jones' efforts come just three weeks after Ohope's Lisa Carrington won the K1 title at the world flatwater championships and booked a berth in London. The Bay of Plenty paddlers are both accomplished surf lifesavers and members of the Mount Maunganui club.
"I hadn't really thought too much about Olympic qualification over the past week but there were quite a few nations and really good paddlers from each, so it took a good race to qualify the spot."
Dawson, meanwhile, still has work to do to qualify for London, with paddlers from 23 different countries making the semifinals. But the 24-year-old made a huge stride towards his goal, after a faultless second run rocketed him up the leaderboard. He was three spots outside the top-40 semifinal cut after his first run, courtesy of a pair of 2s penalties, but his second run left him 10th and 1.5s behind top qualifier, Germany's Alexander Grimm.
"I was a bit shaky on my first run but my second run was way better," Dawson said. "I held it together and was in a good head space, just trying to stay in the middle of the gate and get the boat moving instead of having to work for it.
"I'm just really stoked to get the job done and make it this far - but getting that Olympic spot on Sunday is going to be just as hard." Jones' elevation is just the fourth time New Zealand has qualified a whitewater slalom athlete for the Olympics: Donald Johnstone in 1992, Owen Hughes in 1996 and Jones in 2008.