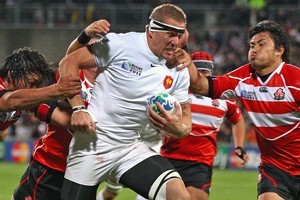 France 47 Japan 21
Japan hold a lot of World Cup records and very few of them are good ones.
They went into this match not having won in 14 World Cup games, having conceded the most points in World Cup history and having finished last in their pool (four times) more than any other nation.
All of that looked like it might change yesterday when they threatened one of the biggest boilovers in World Cup history. After trailing 25-11 and seemingly on the end of a comfortable defeat, they fought back to trail France 25-21 with only 13 minutes remaining.
The French looked as white as the shirts they were wearing. In fact, they looked like certain All Blacks sides of 1999 and 2007 vintage. They spilled the ball, were beaten at the breakdown and handed the ball back to a fired-up opposition who sensed an upset.
The healthy crowd of close to 30,000 sensed it, too.
But the French showed enough composure to close out the match with three late tries to make the score look comfortable. It was a shame for Japan who deserved better.
The All Blacks might have been scratchy in their opening match against Tonga on Friday night but they will be feeling a bit more comfortable about life now. They face Japan in Hamilton on Friday night before the likely pool decider against France a week later.
France put out a strong side and would have wanted to make a statement but they struggled to make an emphatic one.
Their forwards were dominant, especially at scrum time even though the Japanese pack was heavier, but they got sucked into playing Japan's helter-skelter style of rugby. It proved great entertainment as the ball bobbled around but the French would have preferred to play with more structure and substance.
Their first two tries came from broken play as they fed off Japan's mistakes and naivety and it was only when wing Vincent Clerc scored in the corner in the 34th minute did their backline sparkle.
Japan didn't lack for commitment and passion and they attempted to spread the ball quickly to divert traffic away from the French forwards. James Arlidge's first try was fortuitous as a grubber kick rebounded into his arms and he was able to waltz in close to the line and his second in the 50th minute that reduced the gap to 25-18 came after he burst through two weak tackles.
France couldn't get their hands on the ball as Japan went on the offensive. John Kirwan's side couldn't do much more and probably ran themselves into the ground, which France took advantage of in the last 10 minutes.
It would be dangerous to evaluate the French on this performance. After all, they lost their opening game at the 2007 World Cup and everyone in New Zealand knows what they did later in the tournament.
France 47 (J. Pierre, F. Trinh-Duc, V. Clerc, L. Nallet, P Pape, M Parra tries; D. Yachvili 3 pens, 3 cons) Japan 21 (J. Arlidge 2 tries; Arlidge 3 pens, con). HT: 25-11.

- APNZ