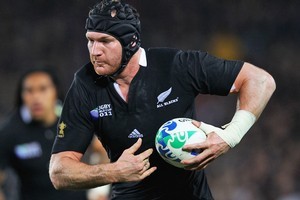 Ali Williams doesn't usually watch television on game days but he was glued to it on Friday just hours before taking on Tonga in the Rugby World Cup opener.
He was overwhelmed by what he was seeing as the tournament's festivities kicked off.
He also couldn't comprehend the reception he received from fans outside the team's hotel as he walked across the foyer to get strapped for the game. The cacophony that greeted the team as they boarded the bus to the ground flooded him with emotion and the scenes as the All Blacks drove to the ground captivated all of the players.
"I was just overwhelmed by the country and how they got behind it," he said. "Just the support, the flags, the passion... I think it's great for this country and we have to learn from it. We are creating an environment that's not dependent on results. We are not criticising anything because what we are doing is living the moment. Mate, I couldn't turn the TV off. I don't watch TV on game day but I couldn't turn it off.
"[The reception we got at the hotel] was just bizarre. Even just going to strapping, they could see through the window and you would get a roar every time you walked past. I have never experienced anything like it.
"It summed it up for me when we were sitting on the bus. A lot of us listen to music and we keep to ourselves. Me and Dan [Carter] were sort of dancing. You couldn't help it. There was this energy coming through. Jeez, she was here baby. If you can't feed off that, you've got issues. Just keep it going."
Friday was an occasion both the All Blacks and the nation needed to get out of their systems. The All Blacks' performance was patchy, especially in the second half, but it was largely a symptom of building for that moment for so long. For fans, too, it was a release of energy and emotion.
For assistant coach Wayne Smith, Friday night was the night the country lost its shyness. He's seen a few things in his 12 years with the All Blacks, but nothing like what greeted them on Friday.
"It was pretty special," he said. "I think people understand this might be a one in a lifetime opportunity and are pretty excited by it. And I think people feel we are going to be there or thereabouts and, with a push from them, we might achieve something. It's all around the country. You see it in some regions and it's parochialism but this is patriotism. This is about the country and it's special."
The All Blacks now need to channel that energy and set about trying to improve. Friday night was as much about getting the tournament under way as anything. This Friday's game against Japan will be about producing a better performance and building for later in the World Cup.
Defensively the All Blacks were excellent on Friday, conceding just one try after a sustained period of pressure from Tonga. Their line speed was good, their structure sound and they were aggressive in the tackle. But there were too many errors, their set piece came under too much pressure and they lacked fluidity.
"We couldn't really get any rhythm into our play and we tried to force things but came up with mistakes," first five-eighths Dan Carter said. "That was really frustrating.
"When we score a few tries, we can't let our foot off the throttle. We have to keep the pressure on for the full 80 minutes. We played well in patches but it's an 80-minute game and we can't let the other side into games. Our physicality is going to have to lift another level."
Carter was on the end of some customary Tongan physicality. He took a knock to a wrist that has been troubling him for some time and his back also tightened up about 20 minutes into the game and finally forced him from the field in the latter stages.
"Old age," he quipped unconvincingly.
For many, particularly within the All Blacks camp, there's a feeling the country has finally come of age.
- APNZ