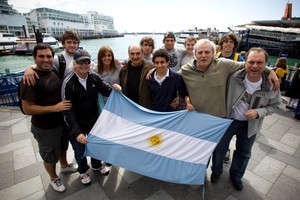 Twenty-four hours after opening the World Cup, the All Blacks would be wise to cast their eyes south, where the second and third-placed teams from four years ago will meet under the roof of Stadium Otago.
Argentina and England, with Wales and South Africa in Wellington on Sunday night, provide the most intriguing action of the opening weekend, but it is the former that has a potential backlash for the home side. You only have to look back four years to see the serious ramifications Argentina's opening pool had for the All Black campaign.
Los Pumas' shock victory over the hosts in the World Cup opener effectively consigned New Zealand to a quarter-final battle with the flighty French - a team that seems to save their best and worst for the All Blacks.
Four years ago the All Blacks were in a weak pool and Scotland's spineless decision to field a 'B' team at Murrayfield meant Graham Henry's men were never tested before Cardiff.
There are frightening echoes in 2011 that could end up being meaningless, but are difficult to ignore.
New Zealand once again have been handed a weak pool, especially when marked against Pool B. Rather than Italy, Portugal, Scotland and Romania, New Zealand have Tonga, Japan, Canada and France. Yes, Tonga will provide a different physical challenge to anything that they faced in France, but nobody seriously believes they will get close on the scoreboard.
Once again there are noises coming from the only team capable of challenging them in their pool that they could rest key players for the September 24 clash at Eden Park. If France coach Marc Lievremont keeps some of his finest powder dry, then in all likelihood New Zealand will once again go into the "squeaky-bum" phase of the tournament having been put under little scoreboard pressure.
If that is the case then they do not want to face England, finalists in 2007, winners in 2003 and a team that has gained a well-earned reputation for knowing how to play knock-out rugby. (New Zealand, of course, have a somewhat different reputation at World Cups.)
Even if England lose to Argentina, it is difficult to see them falling over against the Scots, so they could well finish second in Pool B, hardened by two tough pool games and face a New Zealand team on cruise control.
It's all hypothetical, of course. New Zealand could lose to France and the Scots might shock the world and beat both England and Argentina, but the smart money is on the winner of Saturday night's game in Dunedin going on to win Pool B and meet France in Auckland on October 8.
The New Zealand camp would be wise to do their homework early.
Last time they admitted to shortcomings at not recognising that tournament rugby is different to tests or tours.
Rather than just concentrating on the next game, the next week, they need to look at the bigger picture.
Already there is a theory that the coaches' controversial wing selections for the World Cup were made with a projected semifinal meeting with South Africa in mind - a game where they expect to receive an aerial bombardment.
A quarter-final against England is by no means an insurmountable obstacle - the Red Rose has never beaten New Zealand at a World Cup - but it is no doubt a match-up Henry would prefer to see on October 23.
So, for the first time in most of their lives, the All Blacks might find themselves cheering for one of their biggest rivals tomorrow.