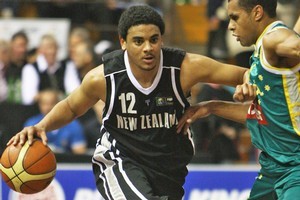 Former Tall Black Paul Henare is delighted Jarrod Kenny is in Melbourne but has grave fears for the future of Corey Webster.
Hawke's Bay skipper Kenny jetted off on Tuesday for the New Zealand men's Olympic qualifying series against Australia after Wellington Saints' guard Webster was sent home for "breaching his contract" before the three-match series.
While Tall Blacks' team officials declined to elaborate on what the breach was, Webster tested positive for cannabis last year and was stood down from the quarter-final play-off match against his former franchise, the Harbour Heat.
"I know the full story but I'd rather let it come out officially from the Tall Blacks," Henare said from Napier.
"However it runs its course he'll no doubt face his consequences.
"Even if I didn't know what it actually is, it'll be pretty serious for him to be sent home," the Hawks' rookie coach said last night.
He felt the the gravity of the case, just days before a crucial international tournament, was disappointing not just for Webster but also for the Tall Blacks.
A sharp shooter, Webster came off the bench when first-choice shooting guard Kirk Penney failed to find traction with the rim.
The 2010-11 ANBL champion New Zealand Breakers franchise gave Webster a last chance in naming him in their squad last year. The player, who was caught in a random test with Heat's US import, Kavossy Franklin, underwent a drug education programme and was involved in community projects.
"I know I have let a lot of people down - it was a stupid thing to do and one that has almost cost me my place at the Breakers," a remorseful Webster said last July.
Henare said Kenny, in becoming the only Bay player in the squad, had put his hand up in the past six months while working out at camps.
Considering Southland guard Mark Dickel had picked up an injury early in the international campaign, Kenny was unlucky although he faces a tough battle to get a run on court considering the plethora of guards in the line up.
With Thomas Abercrombie and Leon Henry shooting from outside, Kenny's best chance is to come in alongside another point guard.
Henare said that was also a factor in favour of Kenny, ahead of ex-Hawk and Auckland Pirate shooting guard Everard Bartlett, of Hawke's Bay.
For more articles from this region, go to Hawkes Bay Today