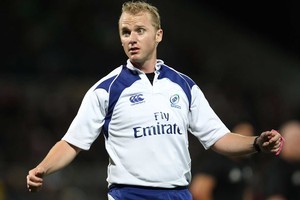 The news that Paddy O'Brien, the IRB head of referees, is going to have a serious talk with his charges this week to ensure they are all on the same page is both disturbing and comforting.
It would have been nice to know that had been sorted out before the World Cup began, but, then again, rugby has such a multiplicity of laws that it can be a confusing beast.
Martin Johnson, the England manager, furrowed his brow a little more, hoping there would not be more "shocks" and "surprises" this close to the start of the tournament. He is most concerned with how the breakdown is blown.
Heinrich Brussow, a man who puts the "break" into breakdown, is not too fussed by the hype around the referees. He will play the man as much as the ball. "It's going to be all about the referees at the breakdown. If players transgress, then they are going to be penalised.
"There's a fine line that all of us will be walking there and we have to know how fine it is," said Brussow at the team hotel in Wellington yesterday.
"If they nail guys at the breakdown and do it both ways, that will be fine. You have to feel the referee at the beginning and adapt to him.
"With the laws changing, the referee has to watch the guys cleaning the ruck out as well as the fetcher. Sometimes guys clean from the side and go off their feet, so you want referees to watch that.
"It's a timing issue. You want to be the stealer and not the tackler. It's about when you get there. It's still tough, but it's a quicker game and a better game with the rules.
"The attacking side has to get there in numbers. If they don't and you are there first, that's my ball."
Brussow said he had experience of English referee Wayne Barnes, who will take Sunday's opening game between South Africa and Wales. "He's a very good ref. He's very fair and blows both ways."
Asked if he would mind taking us through all of his injuries, Brussow looked a little confused for a second, and then started to rattle off: "Well, when I was at school I injured my hamstring ... oh, you mean from recently," he smiled. "I haven't as many as people think. There's the knee ligament injury, which I had last year and played through the Super 15 with. My knee was a bit loose and could train, but I had to strap it, so we had to take a bit from my hamstring to replace it.
"Then I injured my hamstring and then my ribs got hurt. I stood around stupidly at a ruck, looking behind me and I got cleaned out.
"The hamstring happened because I tried to step off it when my leg was tired at the end of a match. No one touched me, but it just went. I forced myself to play against the Crusaders, Richie McCaw and there was a big vibe."
Wales coach Warren Gatland has accused South Africa of playing without the ball, which is not necessarily a sin. The Springboks have not scored many tries this season, not many at all: "Everybody has their own way of approaching games. [The Wallabies and All Blacks] scored more tries than us in the Tri-Nations, but at the end of the day it's about whether you win the game.
"If the other team score more tries than you, but you kick better and play well and win the game, well, I know which one I would rather have. That's not to say that we won't score tries, but it's about accuracy on and execution."
Brussow won a man-of-the-match award for his performance against the All Blacks in Port Elizabeth.
He laughed off suggestions that he and David Pocock, the Wallaby breakaway, "owned" Richie McCaw.
"You can't say you have someone's number because of one match. Sometimes he will get the better of you and the next time you will get the better of him."
- Independent (SA)