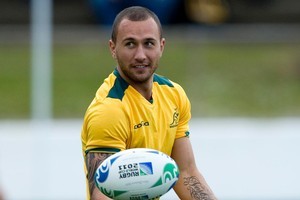 Spending the next few weeks wandering around New Zealand wearing gold with a bullseye on your back wouldn't be every Australians' idea of fun.
But Quade Cooper isn't every Australian. Having Bad Boy No 1 status in New Zealand rugby fans eyes? No worries mate.
"It doesn't bother me at all," the Wallaby first five-eighths said yesterday.
"I don't mind being public enemy No 1."
Maybe it's because Cooper's roots are in Tokoroa, where he was raised until moving to Brisbane with his family at 15.
By all means take the boy out of Tokoroa - where he kicked balls around with the likes of All Black Richard Kahui and fast-rising Crusaders wing Sean Maitland - but part of him remains Kiwi.
Or perhaps he relishes a degree of notoriety, finding it an effective tool for motivating himself for the big occasions.
"I actually enjoy it," he said.
"I get a buzz all the time. Reading my twitter, there's lots of guys who have their own opinions, some of them not necessarily nice, but I like reading through them."
But in New Zealand eyes, 23-year-old Cooper is a ready target after his kneeing of All Black captain Richie McCaw's head during the Wallabies' Tri-Nations-clinching win at Brisbane last month.
That followed giving a prone McCaw an often-replayed and unnecessary shove after James O'Connor's late, winning try in Hong Kong last year.
Cooper escaped a holiday for the kneeing incident, but yesterday he insisted there's no bad blood between the pair, at least from his perspective.
"From a personal point of view I don't know the bloke," he said.
"I haven't had much to do with him off the field, but I know when he's on the field he plays his heart out, wears his heart on his sleeve and does a great job of leading the All Blacks around the park."
When Cooper had a "'mare" against the All Blacks at Eden Park on August 6, it was greeted on this side of the Tasman as a neon sign that being a shoe-shuffling cavalier capable of dazzling moments was one thing; being able to operate effectively in the most hard-edged rugby environment quite another.
But far from wanting to banish that game forever from his mind, Cooper has a different take on it.
"It's definitely not a test I want to forget," he said.
"Games like that is where you learn. If everything goes your way you get complacent. That's not what happened to myself or the team. We had to battle through a game where we pretty much got taught a lesson."
Australia bounced back with wins over South Africa in Durban and the All Blacks at Brisbane. Lessons absorbed.
Those last two wins should have given Australia an extra spring in their step for the cup campaign, which starts against Italy at North Harbour Stadium on Sunday. Certainly you can't fault the Wallabies' timing.
"It's done a lot for our self belief and confidence, but at the same time we know this is a whole different competition," Cooper said.
"We know when our backs are against the wall we can pick the ante up.
"At the same time when things are going well, with the confidence we have as a group we know we can beat any team on any given day."
Bullseye? Bring it on.