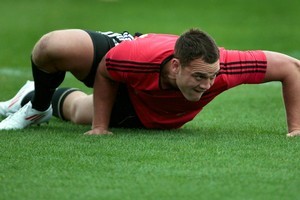 The building has changed names and Santa is no longer attached to the facade each Christmas.
But All Black coach Graham Henry was inside the inner-city Heritage Auckland hotel yesterday doling out startling early selection presents for the World Cup start against Tonga.
Any reputation Henry had as a stolid selector went out the window in the grand tearoom as he talked through decisions to use Richard Kahui on the wing and Ma'a Nonu at centre tomorrow at Eden Park.
Henry and his selection cronies Steve Hansen and Wayne Smith confounded all the conjecture which has circulated since they announced their World Cup squad a fortnight ago. Four years spent overhauling each scenario for a repeat tilt at World Cup acclaim ended in surprise.
Original wing choices Cory Jane and Zac Guildford have been bypassed while Nonu takes over for just his fourth test start at centre for the current All Black panel since they began their work in 2004.
Henry, Hansen and Smith have delivered a few backline selection stunners in their time. Some have been profitable, like Daniel Carter's switch to first five-eighths, while Isaia Toeava is starting to gain traction although David Hill's selection in 2006 was a fizzer.
The latest arrangement suggests a damage protection policy against the Tongans, who will be guaranteed to deliver a physical onslaught which will test the All Blacks' frames if not the scoreboard.
Henry has won his argument, for now, that Dagg is suited more to fullback than wing and that has pushed 98-test veteran Mils Muliaina into the stands, allowing Richie McCaw to push on to his 99th appearance when he leads the side on to Eden Park.
Muliaina understood the selection rationale and Dagg needed more work after playing well this year in his solitary test.
"Nobody is ahead," Henry said. "I think Israel has done something remarkable, he has overcome a major leg injury to play in South Africa and, quite frankly, the selectors did not think he would make it.
"Now he knows that he is up for potential selection in the top team and that puts extra pressure and how he is going to handle that. He is obviously talented but inexperienced. Mils with 98 tests has been one of [the] top fullbacks for some time.
"He is in a flat patch at the moment but will respond and it should be a great dogfight."
Nonu had begun his career as a centre and picking him alongside Sonny Bill Williams meant the All Blacks had a big midfield to confront their sizeable Tongan opponents. Williams needed to play to promote his cause after his recent inactivity.
The message for him was simple.
"Don't try and do it all in five minutes, the game lasts for 80," Henry said.
"He played well in South Africa but I think when players get a chance and haven't played for a while, they try and push it too much and overdo it and I guess patience is going to be key. If he just lets his natural ability control the way he plays then I think he will do well."
Henry said the selectors saw Toeava as a wing for the All Blacks and Kahui had that utility value to cope with those duties.
"In the overall selection what we are trying to do is to play a nucleus of players pretty often and wing is still a competitive position so there are a number of guys who can play there and we haven't sorted that in total," the coach said.
The selectors were probably sure about a dozen first-choice picks for the All Blacks but the back three and halfback were positions up for debate.
The World Cup would define this side. It had done well over the last few seasons, won championships and was ranked No 1 in the world, Henry said.
"But at the end of the day the big one is the Rugby World Cup and everybody knows that, so that is going to define this team and the people associated with it."