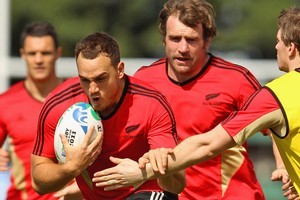 Mils Muliaina's chances of bringing up 100 tests with captain Richie McCaw were dealt a blow when the fullback was left out of the All Blacks' squad to face Tonga on Friday night.
Muliaina has been an automatic selection for most of his international career since making his debut against England in 2003. But the 31-year-old is coming under considerable pressure from Israel Dagg, who was excellent in his one test at fullback against South Africa in Port Elizabeth last month despite it being his first game back from a serious thigh injury.
It can't be assumed Dagg has supplanted his more experienced team-mate. The All Blacks' selectors haven't yet shown their hand and picked what they consider their best side. In fact, they haven't actually settled on their best side. There is considerable competition for places at halfback and in the back three, in particular, and they know what they are going to get with Muliaina.
There had been an expectation both McCaw and Muliaina would become the first All Blacks to play 100 tests together, partly to get it out of the way so the enormity of the milestone didn't become a distraction later in the tournament.
They still might, but it would mean McCaw being rested against Japan next weekend and the selectors might be loathe to leave out their captain.
"We aren't sure who that is,'' Henry said when asked who their top fullback was. "Mils and Israel are competing for that position and he (Dagg) gets an opportunity.
"Israel has done something remarkable. He's overcome a major leg injury to play in South Africa. Quite frankly, the selectors didn't think he would make it. We were hoping he would make it. We have a huge amount of respect for the boy and what he's done but that was a one-off and now he knows he's up for potential selection for the top team and that brings extra pressure and how is he going to handle that. That's going to be interesting.
"He's obviously talented but inexperienced. Mils has played 98 tests and has been one of the top fullbacks in the world for some time and has played outstanding rugby for the All Blacks for a long, long period of time. He's having a bit of a flat patch at the moment but, knowing Mils, he will respond to that and respond to the situation and it will be a real dogfight.''
The same could be said about the battle to wear the No 9 jersey. Jimmy Cowan has got the nod this week, with Piri Weepu on the bench, and Cowan's physicality will be an asset against an aggressive Tongan outfit. If he gets time, Weepu will play his 50th test.
Keven Mealamu and Conrad Smith have both been rested, with Andrew Hore and Sonny Bill Williams given their chances to start. Williams will start at second five-eighths, meaning Ma'a Nonu shifts out to centre.
"We have probably got a dozen - 11 or 12 players - who are probably No 1 in their position and that's reasonably clear,'' Henry said. "We have a very competitive situation at halfback and we have competition in the back three, which is great. We also have a bit of competition in the centres as well. Most of it is pretty solid and there is some competition for three or four positions.
"Kevie has played a lot of footy and done a lot of travelling. He's in good nick. He doesn't really need to play this game. Other guys do. Conrad smith has played at a consistently high level. We know what he can do and he will play next week. And to give Sonny Bill [Williams] a chance, one of the centres had to be rested and Conrad doesn't have a utility value so putting him on the bench wouldn't have helped us.
"We don't know what's going to happen later in the tournament and who's going to be standing and who's not. We have to give players opportunities to play and force their abilities on the selectors. And also if we have injuries, guys need to have had game time in recent times.''
All Blacks:
1. Tony Woodcock
2. Andrew Hore
3. Owen Franks
4. Brad Thorn
5. Ali Williams
6. Jerome Kaino
7. Richie McCaw - captain
8. Victor Vito
9. Jimmy Cowan
10. Daniel Carter
11. Isaia Toeava
12. Sonny Bill Williams
13. Ma'a Nonu
14. Richard Kahui
15. Israel Dagg
Reserves:
16. Corey Flynn
17. Ben Franks
18. Anthony Boric
19. Sam Whitelock
20. Piri Weepu
21. Colin Slade
22. Cory Jane
- APNZ