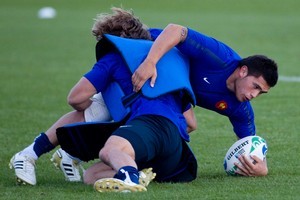 France v Japan
North Harbour Stadium, 3.30pm Saturday
The large tribal tattoos on Raphael Lakafia's arm give you some idea of his heritage, as does his surname.
"I am, what is the word for it, half and half," said Lakafia, referring to his half-Polynesian, half-Gallic bloodlines.
Aha, another example of those dastardly Northern Hemisphere teams pillaging the Pacific Islands for talent?
Not at all.
The tattoos are a tribute to his father. Jean-Paul Lakafia was born on Wallis Island, part of the French Polynesian island group that Blues lock Kurtis Haiu's family hails from. For those without an atlas, if you draw a line north from Tonga and west from Samoa, Wallis is near where that line intersects.
Jean-Paul's ability at hurling a javelin gained him a place on the French national team and a new life on the Continent.
There he met Laurence, a discus thrower in the national team, and they started producing rugby players. Raphael's brother, Pierre-Gilles, is a Toulouse winger.
Lakafia has never lived on the island but said he "was proud of my origin and that is why I have this tattoo with me all the time".
He has extended family coming from Wallis to watch the World Cup, but even they might have been surprised to see his name listed to start at No 8 against Japan this Saturday.
While the All Blacks have gone down the route of tried and true, France coach Marc Lievremont has had no fear of pulling a few rabbits out of the hat.
Lakafia made his debut against Ireland at a friendly in Bordeaux less than a month ago and did enough to gain selection over the highly regarded Louis Picamoles.
"Lakafia may be less spectacular, but he was more consistent in Bordeaux," Lievremont said. "Obviously some players will be disappointed but you have to make decisions."
It caps a remarkably rapid rise for the 22-year-old. "I started rugby late," says Lakafia. "I was 13 or 14 ... I played age grade, under 18 and when I first went to Biarritz [in 2009, from Grenoble] I did not have a good season. I was not ready for top-level rugby.
"It was a very, very tough year. I had to spend a year in the gym with the fitness coach. Last season I think I played well and [Lievremont] was happy with my season and picked me for the World Cup, even though I had never played for the French team.
"It was a gamble for them," Lakafia acknowledged.
Lievremont yesterday named his side for Saturday's game at Albany.
The feature of the side was the choice of Dimitri Yachvili at halfback ahead of the impressive Morgan Parra, who many assumed would be the first-choice No 9.
Lievremont's explanation for the change in tack was simply that Yachvili was "in fine form", citing his performance in the win against Ireland last month as evidence.
The other surprise was the selection of Fabrice Estebanez for a starting place at second five-eighths.
Estebanez, who has recently transferred from Brive to moneyed Paris club Racing Metro, is recognised as an intelligent ball handler and passer.
Prop Fabien Barcella will start for the first time in 15 months after recovering from a ruptured Achilles tendon.
While France are expected to brush aside the John Kirwan-coached Japanese, Lakafia showed he had a nice line in French diplomacy.
"It's going to be a tough game. It won't be easy to beat them, so we need to be focused on this game before concentrating on the rest of the tournament."
Japan name their team tomorrow.
FRANCE v JAPAN
France
15 - Cedric Heymans
14 - Vincent Clerc
13 - Aurelien Rougerie
12 - F. Estebanez
11 - Maxime Medard
10 - Francois Trinh-Duc
9 - Dimitri Yachvili
8 - Raphael Lakafia
7 - I. Harinordoquy
6 - Thierry Dusautoir
5 - Lionel Nallet
4 - Julien Pierre
3 - Nicolas Mas
2 - William Servat
1 - Fabien Barcella
Reserves: Jean-Baptiste Poux, Dimitri Szarzewski, Pascal Pape, Julien Bonnaire, Morgan Parra, David Skrela, David Marty.