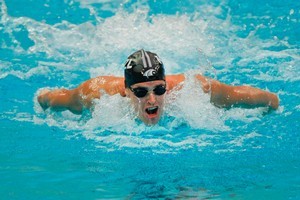 Moss Burmester, the swimmer who came closest to filling New Zealand's Olympic medal vacuum in the pool in recent years, has urged Swimming New Zealand not to rush into short-term solutions following Jan Cameron's resignation.
Cameron on Monday confirmed her departure from the organisation which was criticised in the Ineson report, the general manager of performance and pathways following closely after Swimming New Zealand chairman Murray Coulter, who quit suddenly last Friday.
Cameron's job was made virtually untenable after the Sparc-initiated report was critical of Swimming New Zealand's "negative" and "dysfunctional" high-performance culture.
One of the key recommendations in the June report, penned by former Sports Foundation head Chris Ineson, was for a thorough review into Swimming New Zealand's leadership structures and the establishment of a high-performance advisory committee. The committee wants to create two positions to replace Cameron's role - an Olympic campaign manager to look after the team's preparation for the London Games and an athlete support and development manager.
Tauranga-raised Burmester, who finished fourth in the 200m butterfly at Beijing, is working alongside former Olympic teammates Helen Norfolk, Alison Fitch and Cameron Gibson as part of the New Zealand Swimmers' Association, an athlete advocacy group that comes under the New Zealand Athletes Federation.
He said the resignations weren't a huge surprise but cautioned Swimming NZ against pushing through change that could negatively impact on the sport "for years to come".
"Now's the time to sit down and think it through, implementing a structure that will work well for the future of swimming in New Zealand, because the danger is a short-term fix whereas we need to be thinking longer term, not just through until the [2012] London Olympics."
Burmester said the Swimmers' Association was against appointing an Olympic campaign manager and had put a detailed submission to Swimming NZ and funding body Sparc on how future roles should be structured. Rob Nichol from the New Zealand Players' Association had been involved in the submission.
"I hope Swimming NZ take a good look at it. With Rob we've looked at a raft of sports, going through their [high-performance] models and what works and what might work in swimming."
Burmester came close to pulling out of the last Games, such was his unhappiness with politics affecting his performance, and said the ongoing turmoil saddened him.
- APN