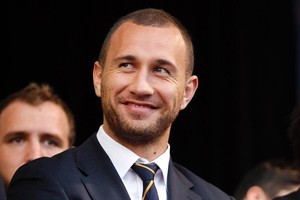 Sheridan's bargain
Andy Sheridan is a dab hand with the guitar - and gifted with a silver tongue too. The tighthead prop, on a decent wicket as the mainstay of the English pack, managed to haggle a 10 per cent discount on a Crafter acoustic guitar, forking out just $550. But Music Planet staffer Paul Jackson reckons he got the upper hand as the penny-pinching prop walked into the Queen St shop planning to spend only a couple of hundred. Jackson says anyone after a discount should ask for a "Sheridan".
Locky the legend
Our convict-descended chums in Brisbane are getting right behind the Rugby World Cup. Brisbane's Courier Mail newspaper has marked the opening of rugby's premier tournament in the traditional fashion: with a 28-page magazine about the life and times of Darren Lockyer.
Tweeting twits I
Welcome to the twittersphere, Zinzan Brooke. The greatest No 8 ever born in Waiuku took Twitter by storm - minutes after arriving, he got into a tasty slanging match with English cricketer and former Yarpie Kevin Pietersen. KP: "Don't go to hard at @zinzanbrooke8 on Twitter please.. He's still crying from '95 RWC ..." Zinzan's cool-headed response: "Get f****d Bok boy, u know what u lot did. No tears but revenge in 96."
But KP gets in the final shot: "There was a RWC in '96 was there?? Must have missed it ... Hope you played well!!!"
Pietersen 3, Brooke 2.
Tweeting twits II
At which point, Will Carling chips in with his two cents' worth.
@willcarling: "don't get him started KP - he will start bleating about food poisoning etc!!"
Which surprised us, as Will's '95 RWC ended in Jonah Lomu's wake.
Tweeting twits III
It would be unlike Zinzan to back off, wouldn't it?
ZinzanBrooke8: "Kiss my arse Pietersen you know exactly what I mean. Front up you jibber".
And then: "In 96 we kicked your arse @kevinpp24 and your captain who was carried off. Sweet days."
Tweeting twits IV
Naturally, Brooke gets the final word: "Off to practice some drop goals. Speak later. And if any of you see that Pietersen, snot him from me."
Brooke 5, Pietersen 3.
Tweeting twits V
Quade Cooper (pictured) has done his level best to confirm Robert Muldoon's equation about New Zealanders who migrate to Australia boosting the average IQ of both countries.
"Where here! Made it to nz safe and sound," he told his Twitter followers.
"Where here"? Mangere, mate, it's called Mangere.
Tweeting twits VI
Cooper has had a lot of grief on Twitter in recent weeks and says he expects more abuse as the World Cup rolls on.
"I kinda hope so," he said when asked if he was expecting a rough ride from All Black supporters over the next six weeks. "I'm sure the whole team and everyone else is expecting that. It wouldn't be a massive occasion like it is without those kind of rivalries.
"And us being the Australian team, there is going to be a massive rivalry being in New Zealand.
"Any time we travel there, the crowds are very hostile, so we're really looking forward to the challenge."
We wouldn't want to disappoint the Wallabies' passport-swapping playmaker, so if you're a tweeter, be sure to drop him a line on @QuadeCooper.
Happy tweeting.