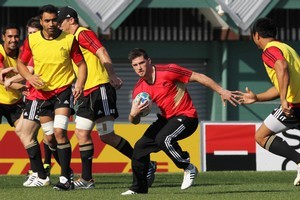 There is a certain pragmatism about Cory Jane. Whether that counted in the final deliberations for the World Cup squad is known only to the selectors, but you guess it might have.
He seems to be a man who can absorb bad performances before moving to his new tasks. That knack and his ability probably gave him the last place in the squad.
He is the wing who came in from the cold, the one back picked from outside the original group. Jane's qualities appealed to the panel and yesterday he enunciated how he felt the All Blacks should attack this tournament.
"Whatever happened in the past has gone now," he said. "We are into a World Cup and it does not matter whether you have won every game or lost every game, every game from now on counts."
Normally Jane would use Twitter to deliver some of his theories and observations, but that mode of communication has been banned by the All Black management. Jane is getting withdrawal symptoms, but promises he will not breach the edict.
He knew he was fortunate to make the squad with competition from Sitiveni Sivivatu, Ben Smith and Hosea Gear who missed the cut. He does not want to give the selectors any excuses to think again about his selection.
That strategy lifted Jane through his two-try appearance against the Springboks on his home track in July, a performance which promoted him into the final World Cup squad after some hefty debate among the selectors.
He had a real struggle to add to his 23 tests. His form had been modest for the Hurricanes in the Super 15 and he only got a run in the tests because of injuries. But that was enough to remind the selectors of Jane's gifts.
He ran hot that night, claimed two tries and got his foot back through the All Blacks' door. Then he travelled to Port Elizabeth for the final selection tussle.
"A few of the boys were on their last chance to try and make it. So the pressure was good. I guess the guys who were not playing or starting were still helping the other guys out," he said.
Now there is a new goal: to win the World Cup. The immediate focus was on Friday night's match at Eden Park with Jane keen to get a start when the side is picked tomorrow.
He hopes his versatility will promote his cause at the selection table for either a start or a role from the bench.
"We all have one goal in mind and that is to perform well and win it [the tournament]. If one person gets disappointed because they are not in it and goes on their own, that is not good for the team so the boys have one goal in mind."
Jane was in a back three at Brisbane who battled through their workload. He felt they had not coped with the pressure as well as they should but said he had moved on.
"We have got to enjoy what we are about."
The idea of playing the opening game at Eden Park was "pretty cool", Jane said, and would be a great chance for all those who got the chance to right the wrongs from Brisbane.
He said every player, if they were honest, probably allowed themselves to imagine what it would be like to win the Webb Ellis Cup. The trick now, though, was to zero in on team and individual goals for Tonga.
"If we start worrying about things down the road and stuff like that, then we have a few battles on our hands. We have got to deal with Tonga and our own goals and start moving after that."