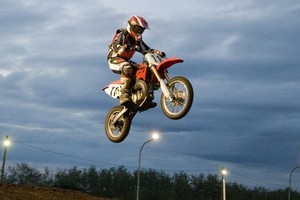 Katikati's Rhys Holmes will have twice the impact of last season when he races in the next Superbike Championships. The 23-year-old, a bike mechanic by trade, will now conduct two separate campaigns, again tackling the superbike class and also launching an assault on the 600cc supersport category.
The talented racer finished 11th overall on his 1000cc Yamaha R1 last season, even though he crashed on the last race of the championship, so nobody can question his credentials on the big bike, but it's his fresh assault on the 600cc class that sparks the most interest.
With the new season fast approaching, Holmes was keen to get a few laps under his belt and the fourth round of six in the Victoria Motorcycle Club's Actrix Winter Series at Manfeild was the ideal opportunity for him to get that much-needed action.
"I'm very much in the development phase with my 600cc racing," Holmes said.
'I've discovered that I'm not really riding hard enough on the 600.
"And I need to select different lines on a 600 to those I'd use on a superbike.
"I'm having to relearn a few things.
"At the moment, I'm riding the Yamaha R6 in stock trim but it will soon be in supersport specifications."
Holmes finished with a hat-trick of fourth placings in the superbike class at Manfeild that day - behind Tauranga's Sloan Frost (BMW), Hawera's Hayden Fitzgerald (Honda) and Auckland's Jaden Hassan (Yamaha), and he managed to take his Yamaha R6 to 7-7-4 placings in the formula two class.
Holmes is now in the runner-up position in the formula one class standings, just 16 points behind the series leader, Lower Hutt's Roger Cathro (Yamaha).
But it's the 600cc class where Holmes is most keen to develop.
He has time on his side with the start of the season still several months away. And with two more rounds remaining in the Actrix Winter Series, there is no doubt that Holmes will take every opportunity to hone his 600cc class skills on his John Tuhoe Racing and Mount Motorcycles-supported Yamaha R6.
The next round of the Actrix series is set for Manfeild in just two weeks, on September 24.