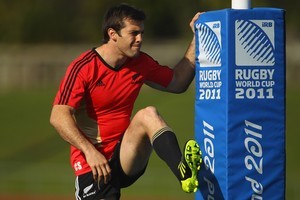 The World Cup has finally arrived for the All Blacks, who have been amazed at the level of interest they are receiving in the countdown to Friday's start against Tonga in Auckland.
Thousands of supporters turning up to promotional sessions, flags flying from car windows and packs of journalists from around the world listening to their every word are just some of the indicators to the team that they have hit the big time.
All Blacks centre Conrad Smith said today: "Screens around the training grounds, and the size of the press conferences, things like that probably make it hit home that we're on the big stage now."
"We've spent a long time preparing for it and waiting for it to come around so it's more of a relief than anything.''
The All Blacks take on Tonga in the opening match of the tournament at Eden Park on Friday night and Smith said he was sure the Pacific islanders would get plenty of support from the crowd.
"The island teams always get a big welcome when they come here. It will be good, that's what makes the World Cup interesting - all the support not only for us but also the other teams.''
Cory Jane, in his first World Cup, is hoping to make the team to face Tonga.
He said: "It would be pretty cool. I've never experienced this [a World Cup]. To get out there and get a game early would be good for a few of the boys. The last game New Zealand played [the quarterfinal loss to France in Cardiff] they didn't play too well so it would be good to right the wrongs but if it doesn't happen, it doesn't happen.''
Smith said: "It would be nice to make a statement in that first game. The guys selected would be entrusted to do that for the side. It's a big opportunity and the first time we get to show what we've got and what this tournament means to us.''
Asked if he had thought about the possibility of lifting the William Webb Ellis Trophy, Jane said: "I guess every player on every team would be thinking `man, if we won it, what would that feel like?' But we've just got to worry about each game because if we worry about things down the road... we've got a few battles on our hands starting with Tonga on Friday. We'll deal with that game but we're not going to start thinking about winning it now.''
All Blacks back-up first five Colin Slade, who is based in Christchurch, said he was sure the city would get behind the tournament, just like Auckland was, despite the earthquakes ruling out any games there.
"Christchurch is very much a part of it - I think the whole country is and we've experienced that over the last couple of days. So while they might not be able to physically see as much of the All Blacks and other teams as they'd like, they will still no doubt watch every game with huge interest. I've got a few Tongan mates at home already giving me some stick this week so no doubt they will cheering for whoever it may be so Christchurch is still very much a part of this World Cup.''
- APNZ