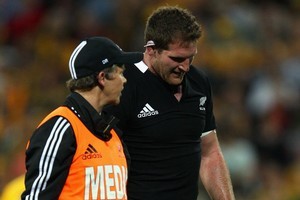 We are all starting to get a bit nervous about what is a wonderful opportunity for this country. Those losses to South Africa and Australia have shown us that on their day, any one of the top four or five nations can beat anyone.
It's adding to the anticipation of this tournament, even if you belong to the school of thought that says those two losses will not have done the All Blacks any harm.
I am not so sure, but let's come back later to the on-field rugby - the important thing is that RWC 2011 is now poised to be a beauty.
In 1987, it all arrived very quickly but this time we have had years to anticipate and build up to it.
I have spoken many times about 1987 and how it connected the All Blacks to the nation by being taken round New Zealand, including being billeted with families in the Wairarapa.
I can recall stopping for training at Te Aute College in the Hawke's Bay. The whole school turned out to greet us and put on a bone-tingling haka. We knew who we were playing for after that as well.
I think this year's All Blacks have similar knowledge and connection now.
This time round, it's been a question of some negativity heralding a much more complicated and expensive tournament - but I can feel World Cup fever in Kiwi bloodstreams now. Some are concerned about what sort of hosts we will be in our sometimes single-minded support for the All Blacks but I think we are genuinely good hosts and will naturally rise to the occasion.
And what an occasion it is now threatening to be. The best World Cups are set by the people of the host nation and, for my money, the best so far has been South Africa in 1995 - and they did it again with the Fifa World Cup in 2010, I thought.
Kiwis don't need to force it - we can just be ourselves; be New Zealanders with all the warmth and welcome we traditionally extend to visitors even (and especially) rivals.
Those two losses have perked up the fortunes of the Wallabies and the Boks, no question. But maybe it's counter-balanced this time by giving the All Blacks something to focus on.
In 1987, we focused on that mauling we got from the French in 1986 at Nantes - ahead of the World Cup final. In fact, if you look back through the history of the World Cup, the winners have often been those with real issues before the tournament.
However, we have had a bit of a wake-up call at loose forward with the injury to Kieran Read. I regard this as a much more serious problem than the form of the back five. The wingers and fullbacks will do the business, I am sure, if the All Black forwards do their job - and that is why Read's injury is worrying. He won't be back until at least the last pool game and maybe not until the quarter-final and I think what we saw against Australia showed he is almost as essential in the All Black machine as Dan Carter and Richie McCaw.
We have the people to fill in - Victor Vito did well when he came on - but Read's injury says to me that the All Blacks now have to play their best side for all four pool matches and stick to a top 22. There is no room for rotation and clever stuff.
Having said that, I think there are one or two people who haven't been playing much who need to now - including Sonny Bill Williams and maybe Israel Dagg. I think Williams is paramount to the World Cup effort - even if he is on the bench. He has too much to offer that can spell the deciding of a match. Graham Henry is far too clever to let him sit on the bench without giving him a decent trot and get tuned up to World Cup specifications.
Dagg is another who can make a difference. I'd have no argument at all with playing Mils Muliaina in the World Cup final - we all know what he can do. But Dagg, given some time now, could be the burning fuse that lights up the All Blacks' outside backs. Time to give him a crack, I feel. I also have no time for the suggestion that people like Carter and McCaw should be rested ahead of a physical clash against Tonga first up.
The only other problematical selection for the first game, as I see it, is at halfback. Maybe the All Blacks missed Jimmy Cowan's defensive, corner-flagging and aggressive resistance in the first half against the Wallabies - and maybe he has done enough to start, with Piri Weepu coming off the bench, as he has done effectively before.
So here's the 22 that I'd play against Tonga and would try to stick to for the rest of the tournament - although we'd hope to have Adam Thomson back soon to relieve Ali Williams/Sam Whitelock from having to back up at loose forward. That will be okay for Tonga.
As for getting SBW on the bench, we might, for this game, have to look at Weepu to cover 9 and 10 although I'd prefer to have Slade there (and give him 15-20 minutes) and use Ma'a Nonu as wing cover.
The 22 would be: Tony Woodcock, Keven Mealamu, Owen Franks, Sam Whitelock, Brad Thorn, Richie McCaw, Jerome Kaino, Victor Vito; Jimmy Cowan, Dan Carter, Ma'a Nonu, Conrad Smith, Cory Jane, Isaia Toeava, Israel Dagg. Subs: Andrew Hore, John Afoa, Ben Franks, Ali Williams, Piri Weepu, Colin Slade, Sonny Bill Williams.