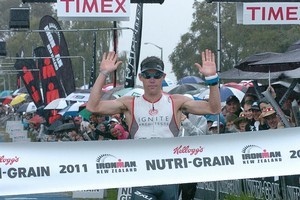 Cameron Brown has set a world record by winning the Ironman NZ at Taupo 10 times.
Cameron Brown knows his days are numbered to achieve his dream of becoming the first New Zealand man to be King of Kona.
The Ironman legend is the sole Kiwi male gunning for the elite title this year, with regular rival Terenzo Bozzone out with injury and significant rule changes for qualification making it "a whole new race".
Previously athletes only had to race one Ironman event to qualify for the World Championship at Kona but this year the minimum requirement is an athlete's best five races (minimum two Ironman and three 70.3 Ironman events) to qualify. A points system is in place and only the top 50 athletes qualify.
Brown believes that will suit his endurance fitness more than the explosive athletes who peak for Kona every year.
If this is not his last time it will be one of his final few attempts to conquer the sacred mountain.
"Never say never," said the 39-year-old. "But time is running out for me to win and I don't know how many more cracks I will have at it. I need to make the most of every time at Kona."
He has come painfully close to being crowned the King of Kona. He was second in 2005 and 2001 and third in 2002 and 2003.
"I have learned from every race. It is a full-on environment - it's unlike any other event in the world - it takes a perfect race and a bit of luck to win. So here is hoping I can get it done."
Brown, who in March won the Kellogg's Nutri-Grain Ironman New Zealand for a record 10th time, a world record for any one event, has never quite had "the perfect race" when it mattered. The veteran is taking a new approach into this year's World Championship. For the first time in 10 years he is preparing at home in East Auckland with his wife and two boys.
"Every time I go away I put on weight," said Brown, who prepares for Kona by spending seven weeks training in Hawaii to acclimatise.
"It is mentally draining. By the time the race comes around I am pretty spent. There is a lot of downtime after training. There is nothing like staying in your own bed and keeping busy at home and eating home cooking - it is a much healthier life at home."
He also likes being away from the spotlight as one of the favourites because it's easy to be distracted by the media hype.
"It's all good these days as I haven't done that well recently," he said laughing. "But there is always media talking you up and it all adds pressure. I can do without that crap."
Brown will arrive in Hawaii nine days before the race to acclimatise.
"I have been there 10 or 11 times now so I know what to expect and I know how hot and hard the race is.
"I will be in the best shape I can be and mentally fresh, which is an asset because it is such a mentally draining race."
He has been battling to get back to top fitness in recent weeks after suffering a sinus infection and the flu he picked up after being run down by a Half Ironman in the Philippines.
"I lost a bit of time but I feel like I am getting it back. Hopefully I have nothing more to deal with and I can keep building for the next five weeks."
Brown believes the new qualification standards suit him.
"The rule changes play more into the hands of the endurance athletes who can go for a whole season without injury or sickness as opposed to the guys who prepare and peak for Kona.
"They are going to struggle now. It changes everything because a lot of athletes don't know for sure that they are in until only recently so it is hard to periodise your training.
"It will suit me as I normally race well throughout the year. It is a whole new race now."
If Brown can get over the line at Kona then he could retire a happy man. Truth be told, he will anyway as his legacy in New Zealand Ironman is unlikely to be ever bettered.
"It is a magic feeling at 39 still being able to beat all the young fellas at Taupo - I really enjoy that.
"I believe there are a few more years in me yet. I am feeling good.
"It is about staying injury-free, staying positive and being smarter with the amount of training I put in and doing active recovery so I look after the body. "If I do that and I am still enjoying it then I will keep giving it my best."
Ironman legend
* Cameron Brown has made Ironman New Zealand his own. He is a 10-time winner of the Taupo event (2001-2005, 2007-2011), which is a world record for any Ironman event.
* Ironman World Championships on October 8 at Kona-Kailua: Distances: 3.86km swim, 180.25km bike ride and 42.195km run
* The current Ironman Hawaii course record was set in 1996 by Luc van Lierde (Belgium) 8:04:08. The women's course record is 8:54:02 set in 2009 by Chrissie Wellington (Great Britain).
* New Zealand's Erin Baker won the World Championship at Kona in 1987 and 1990.