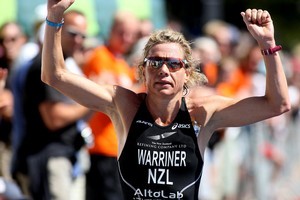 Samantha Warriner has just turned 40 but, when it comes to Ironman, she feels she still has her L plates on.
In her first full year in Ironman, Warriner has qualified for the Ironman World Championships in Hawaii.
It is the first year of a new qualifying system. Until now, there have been a number of spots at every Ironman around the world - there were 180 "pros" racing last year. Now there is a points' system, with only the top 50 males and top 30 females qualifying.
Warriner qualified 25th and made the first cut (top 25 at end of July with the final five spots at the end of August). For the men, it was 40 at end of July and final 10 at end of August.
The 2011 Ironman New Zealand champion, who only began triathlon as a 30-year-old, is excited and nervous about making her debut at Kona, which she is sure will be another learning curve.
"I am still learning with Ironman," said the English-born Kiwi, who won the ITU World Cup in 2008.
"I never go in and win straightaway. I always learned how to race triathlon then did well. I learned how to race ITU and then did well. I learned how to race 70.3 and then I did well. Now, with Ironman, I am still learning. I have to spend the time to learn.
"I know that about myself and I know it's about perseverance. It is all about learning with me at the moment. I've never been a fast learner."
Even still, Warriner has picked up quickly that sticking to the game plan is crucial. That is easier said than done when the unexpected happens - as it did recently in Europe, where she finished fifth.
"Any Ironman is tough. You have to race your own race and stick to your own race plan.
"Not like IMNZ when I had a great swim and it set me up. I was well back with the Ironman in Europe and, therefore, it was good practice about how to deal with that situation. It was also incredibly cold on the bike and I did not prepare for that and just wore arm-warmers."
Warriner has spent three weeks in Hawaii and will complete her preparations in Texas for what is one of the most intimidating races of her career.
Sam Warriner
ITU World Cup
First overall 2008
Third overall 2007
Seven World Cup victories
ITU World Championships
Third Vancouver 2008
Commonwealth Games
Silver medal, Melbourne 2006
Olympics
Beijing, 2008
70.3 Triathlon
2009 wins Port of Tauranga Half, 70.3 Steelhead, Michigan.
2010 wins Port of Tauranga Half, 70.3 New Orleans, 70.3 Racine, 70.3 Eagleman plus 6 other podiums.
Ironman
2011 Ironman New Zealand 1st, Ironman Europe 5th