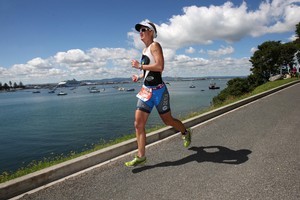 Ironman is not a sport, it is a lifestyle. The Ironman New Zealand event in March is one of the major events of our sporting calendar. We asked 10-time winner Cameron Brown and seven-time women's champion Jo Lawn, who was the last Kiwi to qualify for Kona this week, for some tips for the weekend warriors looking to take on the life-changing race in Taupo.
If you are considering doing the Ironman in Taupo when should you start training?
CB: I would recommend one year of training for an athlete who has a basic history within the disciplines of the sport. It depends what you want to get out of it. But if you just want to complete an ironman, you can do it in six months but it's going to hurt.
JL: Preparations should be around 12 to 14 weeks of specific training. I mean you will be already fit and have been training and have probably prepared or completed a Half or 70.3.
What sort of level of fitness is required to complete an Ironman?
CB: All shapes and sizes do Ironman. It is amazing. For the average athletes, you need to do 15-20 hours per week. There have been athletes complete an Ironman by doing only 10 hours of training per week but that is a bare minimum.
JL: You can't do the training to prepare for Ironman without being fit. Really it is a bit irrelevant because as you progress through the 70.3 and then complete a proper Ironman training programme, especially if you have a coach or a coach's training programme, then you will be focused on what you need to do to prepare for the race. Complete the programme and you will be fit - it is a byproduct of all of the training.
How do you divide your training for the three disciplines?
CB: I swim five times a week, run six times a week and bike seven times a week. Every athlete has his/her strengths and weaknesses so the training should get all the disciplines to about the same level. Swimming is something that you can do a lot as it has a low impact on the body. It is a catch 22 with training as you need to balance time training to injury. I run a lot on the offroad trails to take the pressure off my joints.
JL: You should spend the most time on your weaknesses, especially in the "off-season". But the most important is the bike. That's the discipline you spend most of the time on during an Ironman. How you handle the run comes down to your running legs - and that depends on your strength on the bike.
What is the best advice you can offer to people doing their first Ironman?
CB: Race your own race. Get involved with other people on the day but make sure you set your own standards. Stick to your own plan otherwise you won't get there.
JL: Remember the reason you are doing it is for fun so make sure you enjoy it. And that first one especially is about completing rather than competing. There's 17 hours available on the day - use all of it if you have to. It takes months of dedication to be ready - is it all worth it when you cross the finish line?
CB: Absolutely. It is the best feeling ever and all of the hours of training are worth it.
JL: There is nothing like the feeling when you come down the finish chute and cross that line. Even after all of the Ironman races I have done, it is an emotional time. Enjoy it. How has Ironman changed your life?
CB: Ironman has been my job for over a decade. I have seen the world with the sport that I love. I have made some great friends all over the world. It has been an incredible journey and I owe the sport of Ironman a lot.
JL: Ironman has changed my life enormously. I met my husband at Ironman. I mean how else would a New Zealander meet someone from Venezuela? It has opened my eyes. You become more confident that you can overcome any challenge.
Coming up
Tomorrow
Running & tramping: Xterra Auckland trail run series, event 6, Hunua, Auckland. Course options: Short 5-8km, mid 10-14km, long 16-20km, super-long 21km+. Short and mid courses can be walked.
September 11
Kayaking:D unedin Winter Kayak Series, race 6, Taiora Heads, at the mouth of Dunedin Harbour. Full course is 21km with some tide assistance. A short course for juniors may also be available. Sea kayaks, multisporters, flatwater K1s and Ocean skis all welcome.
Running & Tramping: Unitec Run & Walk Events, race 3, Waitakere, Auckland. Run & walk 28km, 21km, 14km, 7km & kids 2km.