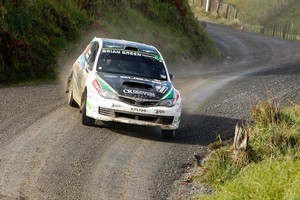 New Zealand rally driver Hayden Paddon is crossing the Ditch to tackle the fifth round of the Production World Rally Championships (PWRC) with a chance of securing the title.
The Australian round of the series - which takes place at the same time, and on the same roads, as the World Rally Championships - is pretty much a level playing field for the international drivers, but the locals will have a definite advantage.
This will not faze Paddon as he's torn the PWRC field apart in every event he's competed in this year.
It's three from three for the Geraldine driver, who with his co-driver John Kennard has put everyone to sword in Portugal, Argentina and most recently in Finland.
If by a stroke of both mechanical and driver genius the pair win their fourth straight rally, Paddon and Kennard cannot be overhauled in the points by the chasing pack.
The 24-year-old leads the championship by 25 points and his nearest rivals - Martin Semerad, in second on 50 points, and Patrik Flodin, third on 34 points - are skipping this round.
Paddon, on the other hand, has dropped his required round (Sweden) and will pick up points in the remaining three races - in Australia on September 8-11, Spain on October 20-23 and Wales on November 10-13.
"With my two closest rivals not making the trip it gives us a good chance to put a bigger lead in and maybe an unassailable lead," said Paddon. "And definitely that's what we're going to try and do."
Despite his dominant form this year, Paddon is by no means taking it as a given he'll be picking up his fourth race title. "You'll find the Australians will go very fast here. We're quite confident going into the race but definitely not over-confident.
"You can't underestimate any competition, especially not the locals. We have no idea what the roads are like as it's a brand-new event and we don't know if the roads will suit us or not.
"We know the locals there do know the roads and will want to put on a show in front of their home crowd."
Paddon and his crew have shipped their New Zealand car over for the event in an effort to save a bit of money. The car has been part of the development process of his international standing and so he has no qualms hitting the dirt in it. As a bonus, his Kiwi crew will be working on the car.
"We've taken our New Zealand car over and we know we've done a good job preparing that and I'm feeling as good as we ever have. To bring the European car and crew down here costs a lot of money and it makes financial sense not to.
"My New Zealand crew have been with me since year dot and it'll be good for them to be on board for the potential of winning a world championship."
Finishing third in the PWRC championship at his first attempt last year has allowed Paddon to approach this year knowing he is good enough to take on the series' best and win.
The plan at the beginning of the season was of course to win the world title, but even Paddon is pleasantly surprised to have three trophies sitting on his mantelpiece at home.
"We definitely had a plan from the word go, there's no doubt about that and we were confident we could win. I must say, though, some of the circumstances of some our competitors have fallen our way but that's nothing we can control.
"We've just been there to take advantage and make the most of it. We always targeted the first part of the year to be our weaker part with events that didn't suit us or we hadn't done before, and from Australia on the races suited us."
If the first half of the season was supposed to be hard work, who knows what the next three races are going to be like for the flying Kiwis.
According to Paddon the best is still to come, so his opposition will have a lot on their hands if everything falls into place for the Kiwi racer.
Points tally
Points after four rounds of PWRC
Hayden Paddon - 75
Martin Semerad - 50
Patrik Flodin - 34
Jukka Ketomaki - 30
Valery Gorban - 28
Nicolas Fuchs - 27