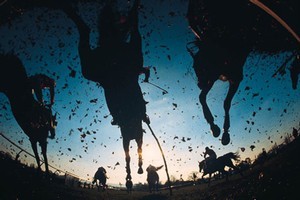 Steven Pateman is a genius in a jumping saddle.
The 27-year-old Melbourne-based Australian has a staggering 45 per cent success rate this season.
To achieve almost a one-out-of-two winning ratio over jumps when your lowest riding weight is 65.5kg is unheard of.
Melbourne's leading flat rider Luke Nolan, at the absolute top of his riding form with Peter Moody's champion stable behind him, has a 17 per cent winning ratio.
Pateman rides in-form Climbing High in today's $85,000 Rodd & Gunn Great Northern Steeplechase and is breaking his neck to get out there.
He had a couple of unsuccessful rides at Riccarton several years ago, but it's the Great Northern that has always captured his imagination.
"It's one of the world's best jumping races, right up there with the Grand National and the Grand Annual," he said yesterday.
"I'm so grateful to the connections of Climbing High to get this opportunity to ride in the race."
That came about when Climbing High's regular rider Shelley Houston decided to ride the Ann Browne-trained Tom's Myth instead.
Had Houston gone the other way Tom's Myth's weight of 63kg was too light for Pateman.
Pateman is from the famous wine area of Margaret River in Western Australia. He grew up with no family connection to horse racing and had no desire to become a jockey.
He followed his mother and older sister into showjumping and one day a woman connected to the administration suggested Pateman should spend a month or two with the Hayes' thoroughbred dynasty at Lindsay Park in South Australia.
The racing connection was made.
Pateman is in New Zealand thanks to the friendship with the now-retired jumps jockey Tommy Hazlett, who spent a decade riding over fences in Melbourne before returning to his home country.
"Steven always said to me if I could find him a decent ride in the Great Northern he'd jump at the opportunity," said Hazlett. "He's a superstar. His presentation of a horse to a fence is exceptional. He's patient and he's strong and one of the things I like about him is that's he's just about the most modest jockey I've seen.
"After a win he'll thank the horse, the trainer and the owner and he'll never say anything about himself."
Pateman, a four-times winner of the Tommy Corrigan medal for best jumps jockey, has done his homework. "I've tried to watch the race every year and this week I've gone back and re-watched the last five or six on YouTube. I've also watched Climbing High's races."
There is a general perception Climbing High has more speed than stamina and is probably not suited to the extreme 6400m and three trips over the fearsome Ellerslie Hill.
But a couple of his recent races have indicated there is a great deal more battle in him than thought.
Pateman thinks so as well. "I know he might be ideally suited to short-course races, but I've noticed even when he gets under pressure he keeps going at the same one speed. I can't wait to get out there."