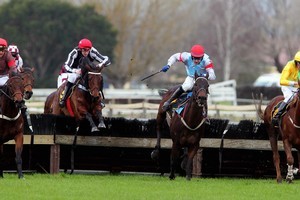 You might back a winner at Ellerslie today that pays more, but you won't get on one that gives you as much satisfaction as Hypnotize if he can win the $85,000 Rodd & Gunn Great Northern Steeplechase.
This will almost certainly be the old bloke's last raceday appearance, even though part owner and trainer Raymond Connors thought last year's dramatic Great Northern victory might be his last.
The task is monumental under the 71.5kg, but weight has never been the deciding factor in this race for Hypnotize - it's the extreme distance and the three trips over the tough Ellerslie Hill that floats the boat of this remarkable jumper.
You simply cannot forget the way he charged home to win a year ago after looking to be too far out of the race.
Nor the way he finished off to take third in the lead-up Pakuranga Hunt Cup two weeks ago.
The further lap of Ellerslie this time will bring him right into favour to create a record that could last long into the future - four Great Northern Steeplechases.
Australian Steven Pateman is probably going to suit Climbing High. He's one the distance almost certainly won't suit, but he's known for his patience and strength and that should keep Climbing High competitive.
Karlos is probably the real threat. He finished second, beaten barely three lengths, last year in only his second steeplechase. He has more distance in his legs this time and the 8.5kg pull in the weights is massive.
It's difficult to ignore the Browne stable and its two runners, Tom's Myth and Ima Heroine, are right in there.
Given it is jumpers' day, a hurdler in Wotabuzz (No3, R1) could take the first flat race. He's more than useful on the flat. If the track is anything like it was for Pakuranga Hunt Cup day two weeks ago it's going to take fit and tough horses to win and Wotabuzz's recent hurdle racing will certainly have him in that condition. The likely favourite, Tricky (No2), has been getting to the line strongly to win lately and it's that type of horse that's going to be tough all day.
Brompton (No2, R2) ran a strange race at New Plymouth last start. He got a long way back, looked to be under real pressure at the 800m then picked himself up and ran home attractively. He can stay a lot handier than that and if he does that here he'll be right in it. Heavy ground is his go. Montjee (No4) has been a little below his best this winter. His age (9) might be counting against him, but he made ground well enough into fourth last start to be given some hope.
Race 3 is tough for a small field. By deadline for this column, there was no indication whether Sweet Suitor (No9) was running here or at Wanganui. He's a chance wherever he runs. He's very good at his best and races well fresh. Pure Cruising (No8) had problems when he was beaten out of a place as favourite at Te Rapa on June 11 and you can forget that run. He's had a nice break and can take this with the right luck. Ishigood (No7) has a 4kg claim and is the trifecta value if on-speed horses look to be favoured.
Shanghai Bund (No7, R4) represents good class and will find these easier than some of Australia's best juveniles in the Sires Produce Stakes at Eagle Farm last start. He's probably not an ideal winter track horse, though, and may be doubtful if the track remains heavy. Don't risk him too much if John Sargent decides to risk it. Ex Hong Kong horse Kilflynn (No2) did a good job when second at Te Rapa and has been given plenty of time to freshen. Olivia Ann (No12) missed the start at Tauranga last week and didn't do a bad job to run fifth.
Not one of the best Great Northern Hurdles fields we've seen. Harvest The Gold (No1, R5) has 66kg joint topweight, but that's only 3kg above the minimum and isn't going to stop him. He is not at his best on sticky, puggy ground, but he has a fair bit on most of these in terms of class. Seeking The Silver (No6) just can't run a bad race and Honey (No4), who beat him home narrowly at Trentham, loves it when the going gets tough and that's the tip for today.
Race 6 is one of the toughest of the day. Enyaar (No3) has not only been in good form, she finishes her races off strongly, something that will be valuable today. Cosabella (No4) deserves a win after terrific efforts in strong fields and she will be assisted by a 4kg claim from Alex Forbes. The recent form of New Moon (No1) looks ordinary on paper, but it might be premature to drop him. His runs haven't been that bad and at his best form he'd win this.
The form of Art Beat (No3, R8) has been sensational. They don't often win by 14 lengths as he did at Ruakaka two starts back and his recent Tauranga win was achieved with a minimum of effort.
He only needs to be in the same form, despite the strength of the field. Matost (No2), Indian Sky (No8) and Don Dixit (No7) are all capable of taking this if the favourite flops.