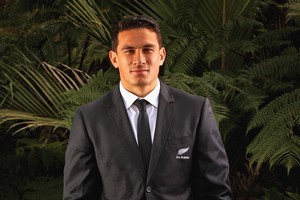 All Blacks second five-eighth Sonny Bill Williams shouldn't re-sign with the New Zealand Rugby Union according to Herald readers.
After last month confirming he was to stay in New Zealand for another year, yesterday the league convert said he won't make a decision on his future until after the Rugby World Cup.
"A man's entitled to change his mind from time to time," he said.
"I don't think I'll be making a decision until after the World Cup. People have been pushing me to make a decision, but for me it's about doing what's best for myself and my family."
A nzherald.co.nz poll, answered by more than 1,400 readers, showed that 65 percent don't want Williams to re-sign with the NZRU.
Herald readers have also taken to the nzherald.co.nz rugby Facebook page to share their thoughts on whether or not Williams should continue to play rugby in New Zealand after the World Cup.
Kiran Mehta said that Williams is better suited to league:
"He wants to play top level rugby but might remain on the fringe. I sense he finds it very hard to sit and watch. I think he is better suited to league and should stick with that. He is 26 now, [in] four years he is 30 and in professional sport you are easily replaced by the next young talent therefore he wont have the luxury of going from league, to rugby to boxing. Don't be a "Jack of all trades, master of none."
Julie Beazer agreed and pointed out that Williams' management were hurting his career:
"He should've stuck to league. I've seen nothing from him even close to the magic he can weave on a league field, but to be honest he has been in decline since he became involved with Mundine and Nasser. They are ruining (if it isn't already ruined) his career. Ego, sponsorships, boxing... just play the bloody game. Plus the Nonu-Smith midfield combination is the best in the world!"
Meanwhile Jess Smith said Williams should make his own decision:
"He has been rather reckless with his career, listening to others when he should have been forging his own path. I would say he perhaps regrets the move and should have stayed with league. You [Williams] should have listened to your heart instead of those two."
Fellow Facebook user Myles Ferris said Williams is not versatile enough to make the grade for the All Blacks: "Don't know what game you watched last week Mundine, but SBW doesn't deserve a start tonight [against the Wallabies in Brisbane] and he's not versatile enough to oust Toeava from the bench. And while that stuff might happen in league, the ABs don't pick teams on the sponsors' say-so. Stick to to league champ."
Williams has also been a talking point on social media site Twitter where his boxing friend Anthony Mundine has been rallying support after the All Black missed out on a starting spot against Australia.
Grant Hamilton said: "Anyone else's energy drained from the ongoing Sonny Bill Williams saga of "Will I stay or Will I go?" Pack up and go. Let us focus on RWC and not you."
While David Clegg added: "I'm not sure Sonny Bill is the dick here. I get the impression he is just a puppet for Nasser and to a lesser extent Mundine."
- HERALD ONLINE