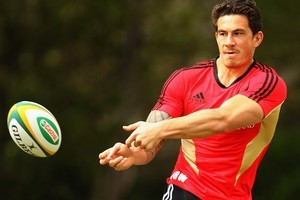 One prominent rugby commentator says Sonny Bill Williams' future is being dragged down by his management.
Newstalk ZB's Phil Gifford says the player had the potential to be a fantastic international rugby player, but he hasn't really fired a shot since what he describes as that ludicrous boxing bout with a sickness beneficiary.
"In many ways it would seem to me the relationship he has with his manager Khoder Nasser is a little similar to the relationship Elvis Presley had with Colonel Tom Parker, it seems the management has called all the shots,'' he told Newstalk ZB's Mike Hosking.
Phil Gifford says there's no way Sonny Bill Williams will be making an appearance at Rugby World Cup 2011 as he's been overshadowed by an on-form Ma'a Nonu.
- NEWSTALK ZB